UFC President Dana White Keeps The Peace … But Only Until Tomorrow Night!
Nick Diaz and BJ Penn pushed their foreheads into each other for a moment, as the weigh-ins for UFC 137 delivered a most memorable moment between the rebellious native of Stockton, California and the legendary Hawaiian.
Diaz exited the stage without giving the customary address to the packed crowd at the Mandalay Bay Events Center. Many feel Diaz might be upset with Penn for accepting the fight. Diaz never wanted to face off against Penn because the two were former training partners. Diaz suggested he almost didn't sign the contract.
"I'm not the one who signed first," Diaz said. "I look at it like that. I'm not one to fight my friends or people I know. I probably wouldn't have signed until they let me know it was all a go. They still had to talk me into it."
Penn, still fired up from the encounter, stayed in place and offered one brief quote.
"He's a good opponent," Penn told the fans as Joe Rogan interviewed him. "It's time to fight."
We'll be HustleTweeting all weekend about UFC 137, and you're more than welcome to join the discussion! Follow THE HEYMAN HUSTLE on Twitter HERE or write to us directly at hustleoncrave@gmail.com
Hey, have you checked out the Hustle's Ultra High Quality You Tube Channel, with exclusive videos featuring BROCK LESNAR'S "HERE COMES THE PAIN" … ICE-T AND COCO's SEX SECRETS … THE ULTIMATE WELTERWEIGHT BAD ASS NICK DIAZ … CONTROVERSIAL TEEN SENSATION TAYLOR MOMSEN … LEGENDARY MMA PIONEER FRANK SHAMROCK … THE WALKING RIOT MISSY HYATT … if you're not subscribing, you're missing something … and by the ways cheapos, it's FREE! Yes, absolutely 100 percent FREE! What are you waiting for? Check it out HERE!
By the way, we're also old school social networkers, so check out our interactive skills on Facebook HERE and even on MySpace HERE. If you're on Friendster, GFY … and have a pleasant tomorrow!
HERE'S THE BIG MOMENT FROM THE UFC 137 WEIGH-INS BETWEEN
WELTERWEIGHT BAD ASS NICK DIAZ AND THE LEGENDARY BJ PENN!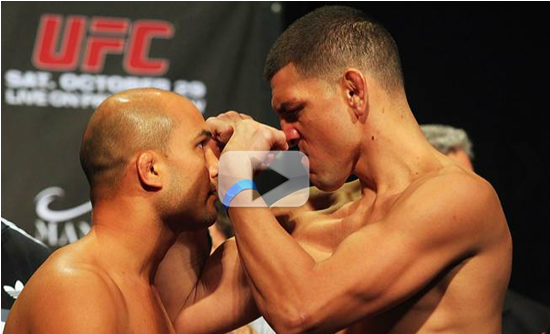 THE HEYMAN HUSTLE'S VERY OWN TRAINED MONKEYS ARE PROUD
TO PRESENT THE TOP 15 STORIES OF THE DAY, ALL CONVENIENTLY
LINKED HERE FOR YOUR REVIEW. NO NEED TO SURF THE WEB, WE
DID ALL THE HARD WORK FOR YOU. JUST PICK A PIC AND CLICK!