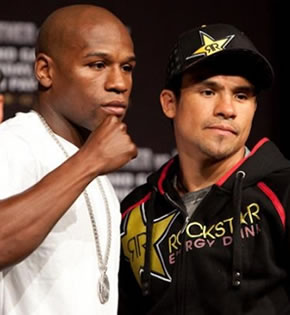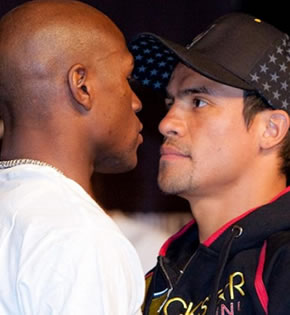 Floyd "Money" Mayweather was uncharacteristically low key during today's press conference, eloquently discussing the Business of Boxing. His opponent, Juan Manuel Marquez, has gotten more notoriety in the past few days for his training regimen, which includes drinking his own urine, than for being the man whose challenge brought the undefeated Money May out of retirement.
Promoter Oscar De La Hoya played the showman this time, busting out his own camera to "capture the de-throning of the king (Floyd Mayweather)." He also joked with the always-colorful Roger Mayweather, saying that he was confused because he thought Floyd Mayweather Sr. was the greatest trainer of all time after Mayweather's manager Leonard Ellerbe referred to Roger Mayweather as the greatest. Roger held up a box that said "Cow Pie" and "Taxes Suck." Oscar was very open as he described why he believes Marquez will do what Oscar failed to do, which is to defeat Mayweather.  
"To go down as a legend, you have to face the best in your era and Marquez is one of the best in my era," Mayweather told reporters at the pre-fight press conference.
"I have been around the sport and I have experienced many different styles, and I will adjust and adapt. Now I am back and September 19 is another big day for me.
"You can expect blood, sweat and tears on Saturday night. I predict one hell of a fight."
"I have a lot of respect for Marquez. He hasn't said anything bad about me, so I have nothing bad to say about him. How can I say something bad about someone who respects my fight game?"
He continued: "This isn't going to be difficult. Nothing is difficult. I just had to get back into the groove. I had to keep working hard. I love to box. I love to go into combat.
"I am not like other fighters. Other fighters have been beat. There is no blue print to beat me. There is a blue print to beat Marquez, because he has been beaten before.
"I am a strong individual and only the strong will survive. I have the skills to pay the bills. It is not about who is the biggest. It is about who is the most skilled. When I get in the squared circle, I am going to do what I have to do to win."
Check Out Our Coverage Of The
Mayweather-Marquez Press Conference!