We appreciate your patronage of our site. If you are seeking the latest information out of Boston, Massachusetts while enjoying your visit to The Heyman Hustle, we will post the most up-to-date information as it develops. We wish we could do more.
Explosions ripped through the heart of Boston, Massachusetts today as two bombs exploded near the finish line of the Boston Marathon on Monday, killing three people, injuring at least 113 and turning the city's most celebrated event into a grisly spectacle of shattered glass, blood and screams.
President Barack Obama said authorities did not know who carried out the attack but vowed to render "the full weight of justice" against those responsible. Minutes later, law enforcement officials said that an 8-year-old child was one of the dead.
Videos from the scene showed two blasts about 20 seconds apart just off the course at the finish. White smoke rose, barriers flew, and throngs of people who had gathered to cheer the runners turned and fled in terror. They later reported seeing horrific injuries that included blown-off limbs and bodies thrown to the asphalt.
"All the sudden there was a massive boom. There was a sort of concussive blow that pushed a lot of people back. I could see runners falling in front of me," said Dave Abel, a reporter for The Boston Globe who was about 10 feet from one of the explosions.
"When the smoke started to clear, I could see lots of bodies," he said. "I could see one woman staring vacantly into the sky. I could see a lot of mangled limbs, a lot of blood and shattered glass. It was probably the most horrific thing I've ever seen."
The FBI took control of the investigation through its multiagency Joint Terrorism Task Force.
"It is a criminal investigation that is a potential terrorist investigation," said FBI special agent in charge Richard DesLauriers.
As he announced the death toll had risen to three, Boston Police Commissioner Ed Davis said authorities "will turn every rock over" to find out who is responsible.
A third, undetonated device was found near the finish line, a House Homeland Security Committee official and three law enforcement officials told NBC News. Authorities also reported an explosion at the John F. Kennedy presidential library, elsewhere in the city, more than an hour after the blasts, but police said that it appeared to be caused by a fire. The police commissioner urged people to stay inside.
Law enforcement officials later revealed that each of two confirmed explosives contained BBs or ball bearings, which functioned as shrapnel in the bombs.
In addition, police issued be-on-the-lookout alerts: one for a man seen leaving the blast scene in dark clothing and a hood and another for a rental truck seen attempting to enter then area near the finish line.
Massachusetts Gov. Deval Patrick said the city of Boston would be open Tuesday but warned, "It will not be business as usual." He said security would be tight and Bostonians should remain vigilant.
Suspicious packages were found after the blasts at three Boston subway stops, and authorities were investigating. New York police deployed extra security to landmarks, Pennsylvania Avenue in front of the White House was closed to foot traffic, and the Pentagon tightened security. Federal authorities briefly grounded flights at the Boston airport as a precaution.
The race is a signature event in Boston and has been run since 1897 on Patriots Day, the third Monday in April. Tens of thousands of spectators turn out each year to watch.
Authorities gave a phone number for people in search of loved ones … 617-635-4520. They encouraged people with information about the blasts to call 1-800-494-TIPS.
BOSTON MARATHON RUNNER CAPTURES THE FIRST EXPLOSION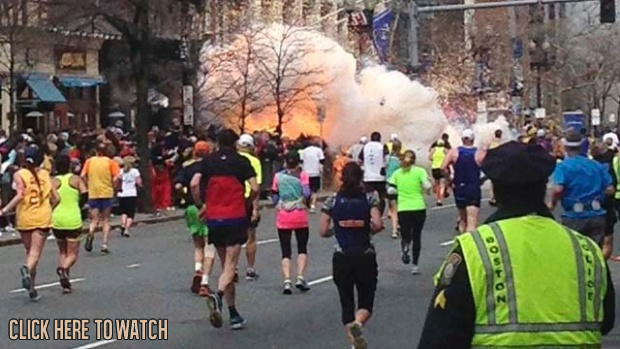 WE HERE AT THE HEYMAN HUSTLE HAVE ENSLAVED HIGHLY TRAINED
MONKEYS TO IGNORE THE FACT THEY ARE OVERWORKED AND UNDERPAID,
ALL IN THE NAME OF SCOURING THE WORLD WIDE WEB TO FIND THE FIFTEEN
MOST PROVOCATIVE STORIES ON THE INTERNET. ALL FOR YOU. NO ONE ELSE
BUT YOU. JUST YOU. AND ALL YOU NEED TO DO IS PICK WHICH PIC TO CLICK!