CNN REPORTING AN ARREST HAS BEEN MADE — UPDATED WEDNESDAY, APRIL 17 — 1:49 pm Eastern Time
At 1:46pm Eastern Time this afternoon, CNN's John King told Wolf Blitzer, "an arrest has been made."
The reports of an arrest follows comments from officials that they had pinpointed the image of the suspect carrying, and perhaps dropping, a black bag at the scene of the second blast on Monday. CNN's John King quotes the sources as saying that surveillance video from a nearby Lord &Taylor department store was key in the investigation. Television footage also played a role, CNN reports. The information of an arrest being made is also being reported by CNN contributor Fran Townsend. CNN, in an effort of full disclosure which we here at THE HEYMAN HUSTLE applaud, state King's source is with Boston law enforcement, he said; Townsend's source is with federal law enforcement.
FOOTAGE OF THE FIRST EXPLOSION AT THE BOSTON MARATHON!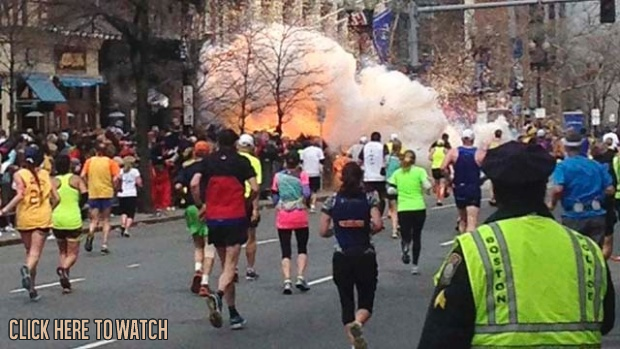 WE HERE AT THE HEYMAN HUSTLE HAVE ENSLAVED HIGHLY TRAINED
MONKEYS TO IGNORE THE FACT THEY ARE OVERWORKED AND UNDERPAID,
ALL IN THE NAME OF SCOURING THE WORLD WIDE WEB TO FIND THE FIFTEEN
MOST PROVOCATIVE STORIES ON THE INTERNET. ALL FOR YOU. NO ONE ELSE
BUT YOU. JUST YOU. AND ALL YOU NEED TO DO IS PICK WHICH PIC TO CLICK!