Remember when Saturday Night Live was so edgy, it was the topic of discussion for several days after the broadcast? Louis CK has put SNL back on the map after a controversial opening monologue!
If you're old enough to remember when Saturday Night Live was truly controversial, you're probably one of the older visitors to our site. It's been a long time since SNL raised eyebrows, but comedian Louis CK managed to do it this weekend with a highly controversial monologue about the Middle East and pedophilia.

The 40th Season Finale of SNL saw Louis come out with a routine that started with the comic's own admitted mild racism, to the Israel-Palestine conflict, and then a shocking comparison between his love of Mounds bars to pedophilia.
Louis opened by explaining, "I grew up in the '70s, so I'm not racist ….however…"

He then launched into a discussion about what he termed his "mild racism," which includes somewhat surprised reactions to situations like when he sees four black women running a pizza place and thinks, "Huh, you don't usually see that."

The comedian then turned the conversation to the Israeli Palestine conflict, which he compared to his squabbling children and offered a few peace-making options straight out of his parenting handbook. The most controversial part of the monologue. however, started when Louis said that there was a child molester who lived in his neighborhood when he was growing up in the '70s, noting, "He didn't like me … I felt a little bad."

He.then went into a rant about the life of a child molester being terrible and then tried to imagine why pedophiles would continue to commit their atrocious crime, when the punishment is so severe. "From their point of view, it must be amazing, for them to risk so much," he said, with a look on his face that made it clear that he knew the storm of disapproval awaiting him when he left the stage, adding, "It's my last show probably."
What's YOUR opinion on the Louis CK opening monologue on SNL? We're HustleTweeting about it right now, and you're more than welcome to join the conversation by following The Heyman Hustle on Twitter HERE! You can also post your thoughts on our Facebook page HERE! If you feel compelled to write us, please do so at HustleOnCrave (at) Gmail.com
BTW, we are kicking ass with our YouTube Channel which features such amazing videos as BRUTAL WWE MOVES: THE REVENGE … #HustleBootyTempTats SUPER MODEL OF THE YEAR ELLIE GONSALVES … BEHIND THE SCENES with BROCK LESNAR … MISSY HYATT's SEX CONFESSIONS … and never to be outdone, COCO DISCUSSES "THE STROKE!"

We are, indeed, on MySpace but we've neglected our account for years … and if you're looking for our Friendster account, GFY!

LOUIS CK HUSTLES HIS WAY THROUGH A CONTROVERSIAL OPENING MONOLOGUE ON THE 40th SEASON FINALE OF SATURDAY NIGHT LIVE!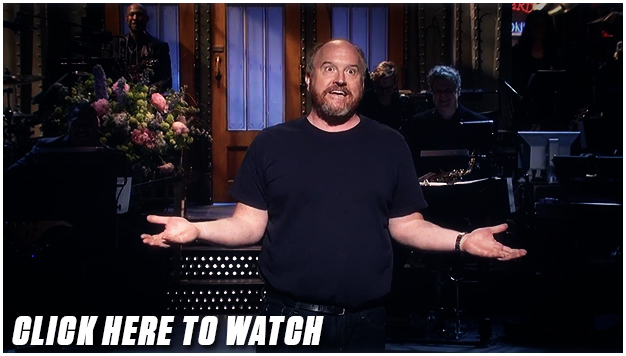 WE HERE AT THE HEYMAN HUSTLE HAVE ENSLAVED HIGHLY TRAINED
MONKEYS TO IGNORE THE FACT THEY ARE OVERWORKED AND UNDERPAID,
ALL IN THE NAME OF SCOURING THE WORLD WIDE WEB TO FIND THE FIFTEEN
MOST PROVOCATIVE STORIES ON THE INTERNET. ALL FOR YOU. NO ONE ELSE
BUT YOU. JUST YOU. AND ALL YOU NEED TO DO IS PICK WHICH PIC TO CLICK!