OOOOOOOOOOOOOOOOOOOOOOOOOOOOOOOH YEEEEEEEEEEEEAAAAAAAAH!
The Macho Man is back, and he's more Savage than ever! Macho Man Randy Savage will be part of WWE '12, and Macho Madness is already permeating the entire gaming world as THQ prepares for the release of the most anticipated video game of the entire year, WWE '12 next Tuesday, November 22nd.
Just two days after WWE presents the Survivor Series pay per view from the World's Most Famous Arena Madison Square Garden, THQ will present a video game that is truly BIGGER BADDER BETTER than any other game that has attempted to capture the RAW emotion of a WWE Smackdown!
CLICK HERE FOR THE OFFICIAL TRAILER ANNOUNCING BROCK LESNAR'S PARTICIPATION IN WWE '12!
Of course, we're HustleTweeting, with lots and lots of cool THQ WWE '12 packages, and you're more than welcome to join the conversation by following THE HEYMAN HUSTLE on Twitter HERE or write to us directly at hustleoncrave@gmail.com
Hey, have you checked out the Hustle's Ultra High Quality You Tube Channel, with exclusive videos featuring BROCK LESNAR'S "HERE COMES THE PAIN" … ICE-T AND COCO's SEX SECRETS … THE ULTIMATE WELTERWEIGHT BAD ASS NICK DIAZ … CONTROVERSIAL TEEN SENSATION TAYLOR MOMSEN … LEGENDARY MMA PIONEER FRANK SHAMROCK … THE WALKING RIOT MISSY HYATT … if you're not subscribing, you're missing something … and by the ways cheapos, it's FREE! Yes, absolutely 100 percent FREE! What are you waiting for? Check it out HERE!
By the way, we're also old school social networkers, so check out our interactive skills on Facebook HERE and even on MySpace HERE. If you're on Friendster, GFY … and have a pleasant tomorrow!
MACHO MADNESS REIGNS SUPREME IN THQ's WWE '12 VIDEO GAME!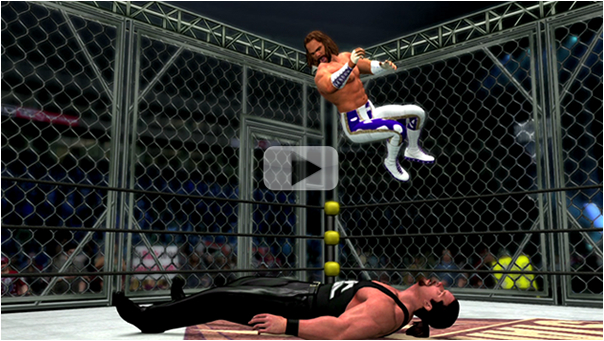 THE HEYMAN HUSTLE'S VERY OWN TRAINED MONKEYS ARE PROUD
TO PRESENT THE TOP 15 STORIES OF THE DAY, ALL CONVENIENTLY
LINKED HERE FOR YOUR REVIEW. NO NEED TO SURF THE WEB, WE
DID ALL THE HARD WORK FOR YOU. JUST PICK A PIC AND CLICK!