Mel Gibson Makes a Shocking Appearance at the World Premiere of MAD MAX: FURY ROAD!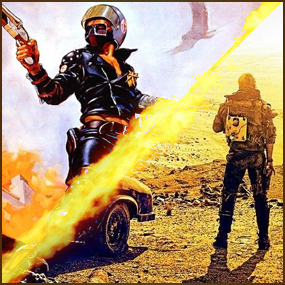 Mel Gibson Makes a Shocking Appearance at the World Premiere of MAD MAX: FURY ROAD!
Mel Gibson made a shocking appearance at the MAD MAX: FURY ROAD world premiere in Hollywood, embracing director George Miller and the new "Max" Tom Hardy. It was a surreal moment on the red carpet, one which caught Miller so off-guard, he didn't address the appearance until he got to the Cannes Film Festival.

According to Miller, "I sat with (Mel Gibson) next to me, and (Tom Hardy) right behind us … we hadn't seen each other for a long time … Mel is someone, in a sense, who cannot lie. He started chuckling through the movie and I thought, 'Ah, that's the chuckle I remember'. Then he started digging me in the ribs. Then he started asking me about the actors, because he's about to direct a film (entitled "Hacksaw Ridge") in Australia."

It's taken 17 years for MAD MAX: FURY ROAD to come to the big screen. Miller had a vision of "a continuous chase (involving) human cargo of five wives racing across the wasteland and fleeing a tyrannical warlord."
The movie set to begin shooting back in 2001, but filming was stalled due to the 9/11 terror attacks, which caused the American dollar to plummet against the Australian dollar. "We were financed in American dollars and shooting in Australian dollars, and we lost 25 percent of our budget," Miller says. "We looked to see what we could cut, but it would have compromised the movie."
He adds, "When 9/11 happened, it extended three months the time it would take to ship your equipment … these large containers of gear and all the vehicles … and the insurance got higher. We were geared up to do Happy Feet after Fury Road so we had to start on that."
Then, as Miller was gearing up to try again, Mel Gibson went off the deep end, running into trouble every time he opened his mouth or got behind the wheel of a car. Miller's original replacement for Gibson wasn't Hardy. It was Heath Ledger.
In 2006, during production on his Oscar-winning animated feature Happy Feet, Miller began courting fellow Aussie Ledger for the role of Max. "Every time Heath would come through Sidney, he'd call in and we'd chat about Max," says Miller. "He had that same thing that Mel and Tom Hardy have … that maleness, charisma, and restless energy, which you need to play a relatively still character. The world lost someone great when he went. Tom was the next to walk through the door that had that vibe."
Hardy announced his casting in June 2010. The plan at the time was to shoot two Mad Max films back-to-back: Mad Max: Fury Road and Mad Max: Furiosa, with the first being a live-action flick and the second an anime.
"We were gonna do an anime of Furiosa, like Akira," Miller says. "We were going to shoot in a place called Broken Hill in Australia out in the Outback, and it rained for the first time in 15 years, and what was the flat red earth of the wasteland was now literally a flower garden and the great salt lakes in the center of Australia had pelicans and frogs in them."
But plans once again fell through, and Miller devoted all his time and energy to the current release, with two more films in the works to continue the new Mad Max series. Many think Gibson's troubles are what kept him from a cameo in MAD MAX: FURY ROAD, but in perhaps the most telling statement of the entire promotional campaign for the movie, Miller set the record straight.
"Never for Mel," says Miller. "It would be like having Sean Connery turning up in Daniel Craig's James Bond movie. It would pull everyone out of the movie when you're trying to get them into it."
Of course, we're HustleTweeting about MAD MAX: FURY ROAD, and you're more than welcome to join the conversation by following The Heyman Hustle on Twitter HERE! You can also post your thoughts on our Facebook page HERE! If you feel compelled to write us, please do so at HustleOnCrave (at) Gmail.com
BTW, we are kicking ass with our YouTube Channel which features such amazing videos as BRUTAL WWE MOVES: THE REVENGE … #HustleBootyTempTats SUPER MODEL OF THE YEAR ELLIE GONSALVES … BEHIND THE SCENES with BROCK LESNAR … MISSY HYATT's SEX CONFESSIONS … and never to be outdone, COCO DISCUSSES "THE STROKE!"

We are, indeed, on MySpace but we've neglected our account for years … and if you're looking for our Friendster account, GFY!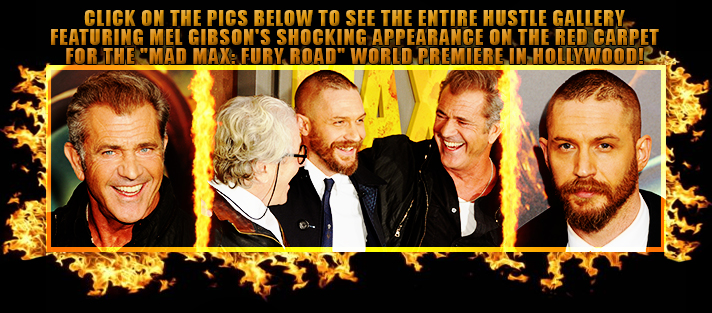 DIRECT FROM WARNER BROS. STUDIOS … SIX EXCLUSIVE CLIPS FROM
THE WASTELAND THAT DEFINE "MAD MAX: FURY ROAD!"

WE HERE AT THE HEYMAN HUSTLE HAVE ENSLAVED HIGHLY TRAINED
MONKEYS TO IGNORE THE FACT THEY ARE OVERWORKED AND UNDERPAID,
ALL IN THE NAME OF SCOURING THE WORLD WIDE WEB TO FIND THE FIFTEEN
MOST PROVOCATIVE STORIES ON THE INTERNET. ALL FOR YOU. NO ONE ELSE
BUT YOU. JUST YOU. AND ALL YOU NEED TO DO IS PICK WHICH PIC TO CLICK!