The Material Girl, Once a Game-Changing Trendsetter, Finds Life as a Legend A Little Bit Different!
It's a different music business in 2014-15, as evidenced by THE HUGE SHAKEUP AT LIVE NATION and the fact APPLE PURCHASED BEATS FOR OVER 3 BILLION DOLLARS! Not only is the industry more youth-driven than ever before, it would appear as though everyone plans their releases and updated-release-dates on when music from the upcoming drops get leaked to the Internet. It's the digital age, folks, and it's making life for legends like Madonna a bit difficult.

The Material Girl, who announced a new album "Rebel Heart" and debuted multiple new songs over the weekend, spoke to Billboard about the vastly different industry, and how the recent leaks of her songs have sent her and her team scrambling.
"I mean, you know, I'm not happy that unreleased demos are out there in the world for people to hear, listen, judge, et cetera, et cetera," an uncharacteristically shaken-up Madonna admitted. "Once that happened we went into overdrive. A) Trying to figure out where the leaks were coming from, and then B) Trying to combat that with putting out finished music that people could focus on versus demos that were never meant for anyone to hear. So, that led to no sleep."
Madonna admitted the leaks are par for the course on the Internet these days, as it's more likely for an album to hit websites before it's officially released than it is to stay locked down until drop day. But with the leaks coming much earlier than even anticipated, it's made for quite the frantic moment in her camp.
"Well, it's thrown us all into overdrive," the legendary Diva stated. "We're having to think outside the box. Think on our feet. I didn't plan to put my record out this way. I wanted to… plan everything in advance. Release the single, shoot a video, start talking about my record. And you know, prepare for the release of the entire album and have everything set up just so. I mean, that's the kind of person I am. I think that's the best way to do it. But we sort of were left with no choice."
Madonna is clear in her message. She released several songs from the upcoming album to circumvent a spate of demos that were illegally posted on the web. At first, all six songs lodged right into the iTunes top 10 and it looked like Madonna had a success. The plan was to release the rest of "Rebel Heart" in March.
But now, just a few days late, five of the six songs are gone from iTunes. Only one, "Bitch I'm Madonna," featuring Nicki Minaj, remains at a lowly number 188. The album "Rebel Heart" which lists seven songs is at number 38 for pre-orders. On Amazon, the song that was supposed to be the lead single, "Living for Love" is at number 529 among digital singles. The "Rebel Heart" album is at 167.
Of course, we're HustleTweeting about Madonna, and you're more than welcome to join the conversation by following the Hustle on Twitter HERE or write to us directly at hustleoncrave@gmail.com Hey, have you checked out the Hustle's Ultra High Quality You Tube Channel, with exclusive videos featuring OUR WORLD EXCLUSIVE WITH MIKE TYSON … BROCK LESNAR'S "HERE COMES THE PAIN" … ICE-T AND COCO's SEX SECRETS … MMA BAD BOY NICK DIAZ … the list goes on and on, so if you're not subscribing, you're missing something … and by the ways cheapos, it's FREE! Yes, absolutely 100 percent FREE! What are you waiting for? Check it out HERE!
By the way, we're also old school social networkers, so check out our interactive skills on Facebook HERE and even on MySpace HERE. If you're on Friendster, GFY … and have a pleasant tomorrow!

CHECK OUT "LIVING FOR LOVE" BY MADONNA!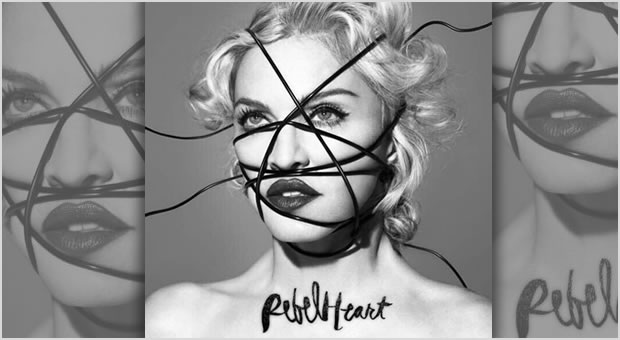 WE HERE AT THE HEYMAN HUSTLE HAVE ENSLAVED HIGHLY TRAINED
MONKEYS TO IGNORE THE FACT THEY ARE OVERWORKED AND UNDERPAID,
ALL IN THE NAME OF SCOURING THE WORLD WIDE WEB TO FIND THE FIFTEEN
MOST PROVOCATIVE STORIES ON THE INTERNET. ALL FOR YOU. NO ONE ELSE
BUT YOU. JUST YOU. AND ALL YOU NEED TO DO IS PICK WHICH PIC TO CLICK!