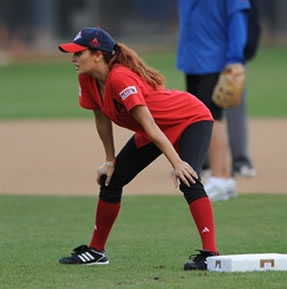 Former WWE Diva Maria Kanellis, most recently a hot contestant on Donald Trump's Celebrity Apprentice, played ball with a host of other celebrities on Saturday night. The gorgeous native of nearly Ottawa, Illinois played in the Steve Garvey Celebrity Softball, an annual event designed to create awareness and hopefully one day find a cure for ALS, aka "Lou Gerhig's Disease."
"Having Lou Gehrig as an idol made this easy for me," Garvey said. "I won the Lou Gehrig Award as a player. It's so hard because this disease happens so fast."
We're HustleTweeting about Maria, and you are more than welcome to voice your opinion! Don't be left out, join the conversation today! Join THE HEYMAN HUSTLE on Twitter HERE
CLICK ON THE PHOTOS BELOW AND SEE THE ENTIRE
SET OF PICTURES OF THE LOVELY MARIA KANELLIS!

THE HEYMAN HUSTLE'S VERY OWN TRAINED MONKEYS ARE PROUD
TO PRESENT THE TOP 15 STORIES OF THE DAY, ALL CONVENIENTLY
LINKED HERE FOR YOUR REVIEW. NO NEED TO SURF THE WEB, WE
DID ALL THE HARD WORK FOR YOU. JUST PICK A PIC AND CLICK!