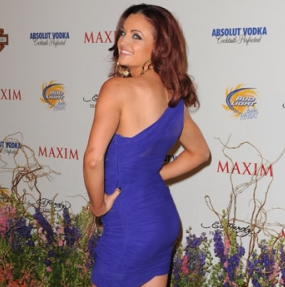 If 2010 ended today, Maria Kanellis would still consider it a very eventful year. The former Wrestlemania-edition Playboy cover girl was released by WWE, but became a mainstream network reality star on Donald Trump's "The Celebrity Apprentice." Hey, fired by two billionaires in one year … how many people can say that?
Maria also released a brand new CD of her music, and has taken a job with HDNet to become a Mixed Martial Arts broadcaster. Think about it. All this, and we're not even 5 months into the year. What does the (near) future hold for the gorgeous native of Ottawa, Illinois? If the (not-yet-completed) first half of 2010 is any indication, the best is yet to come!

CLICK HERE TO SEE AN ENTIRE GALLERY OF CELEBRITY APPRENTICE / WWE DIVA MARIA KANELLIS AT THE MAXIM HOT 100 PARTY IN HOLLYWOOD, CALIFORNIA LATE LAST WEEK!
---
THE HOLLYWOOD CHARLIE MEDIA WATCH IS PRESENTED TODAY
IN HARDCORE HUSTLEVISION, SERVING YOUR EXTREME WEB
NEEDS SINCE 2009. WOW. THAT'S A LOT OF EXPERIENCE, ISN'T
IT? IT ISN'T? DAMN. OK, GIVE US A BREAK. COME ON, OUR TEAM
OF HIGHLY TRAINED MONKEYS WORKED HARD ON THIS. IT'S NOT
LIKE YOUR PART IS ALL THAT HARD. JUST PICK A PIC AND CLICK!