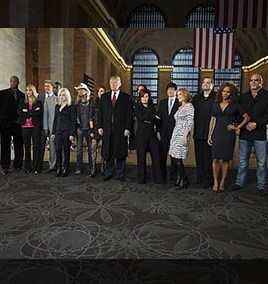 Maria Kanellis (it's a shame to label her "Former WWE Diva" because she has so much more to offer than "just that") was a show-stealer last week on Donald Trump's Celebrity Apprentice , which tells you one helluva story about her awesome charisma, since she was coupled with larger than life personalities like Sharon Osbourne and Cyndi Lauper.

The singer/songwriter – Playboy cover girl – Former WWE Diva (that's more like it) survived week one, which was no surprise to our own Hustler De Tuti Hustlers Paul Heyman. You can read Paul's blog from the UK Sun on Maria's ambition and intelligence HERE.

You can also check out a ton of great Maria photos from the streets of NYC shooting The Celebrity Apprentice HERE.

Maria got some fantastic press for her appearance last week, but ultimately, her friend and our boss Paul Heyman had some advice for NBC regarding the upcoming episodes. "5 words equals ratings. Maria Ivanka Lesbian Love Affair. It doesn't have to last long. Even just a flirtation. But that's just my low brow opinion. What the hell do I know?"

Now THAT would be a Hustle!
CLICK ON THE PHOTOS BELOW TO SEE
THE ENTIRE GALLERY OF MARIA ON THE CELEBRITY APPRENTICE
---
TONIGHT'S MEDIA WATCH IS BROUGHT TO YOU
IN SPECTACULAR HUSTLEVISION!
OF COURSE, THIS WILL BECOME OBSOLETE
IN ONLY A FEW SHORT YEARS
WHEN IT'S REPLACED BY SOMETHING ELSE.
WHILE YOU WAIT FOR THAT TO HAPPEN
PICK A PIC AND CLICK