Women's MMA Gets Its Most High Profile Fight Since Gina Carano vs Cris Cyborg, and a New Female Superstar Emerges In Strikeforce!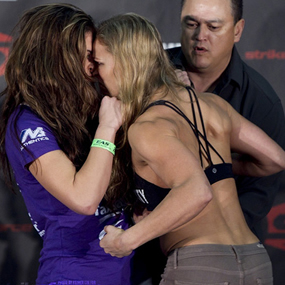 Women's MMA Gets Its Most High Profile Fight Since Gina Carano vs Cris Cyborg, and a New Female Superstar Emerges In Strikeforce!
"Ronda Rousey is on the verge of superstardom. And she's never going to achieve it. Not if Strikeforce Womens Bantamweight Champion Miesha Tate has anything to say about it"
So says our own Hustler De Tuti Hustlers Paul Heyman, giving his assessment of Rousey's JEREMY LIN like rise to fame within the world of Women's Mixed Martial Arts.
Today, at the Strikeforce-on-Showtime weigh-ins, Tate pushed her forehead up against Rousey's, and the Rowdy native of Venice Beach pushed back. Hard!
"For the record, she touched my forehead first…." Rousey wrote on Twitter.
Tate, who weighed in at the exact same 134.5 pounds as Rousey, replied, "Weigh-ins got a little heated but we both weighed in at 134.5lbs, she looks like a little shrimp now lol anyways time 4 the #RouseyStomp!!"
Rousey, who trains with Gokor Chivichyan and Gene LeBell with Team Hayastan in North Hollywood, made her professional debut only a year ago at a King of the Cage event in Woodland Hills.
"It's been kind a whirlwind to try to keep up with everything that's been going on," said the undefeated Rousey (4-0), "It's more relaxing from a fiscal standpoint. I'm not coming home crying trying figure how to make my bills."
Rousey, a 2008 Olympic judo bronze medalist, is the favorite in the title fight, since she has won all four pro fights, and all three amateur fights in less than one minute each. And she's won every fight with an armbar.
The trash-talking Rousey promises to pull no punches in interviews, and she's become quite the character because of it. "I got my trash talking from being raised in the gym and the house I grew up in," she stated. "I come from an extremely intellectual household. My mom has a Ph.D., my dad is a rocket scientist, my sister has a master's from USC and my other sister has a bachelor's in journalism from NYU. I went from that household to a gym with a bunch of guys who used to bust my balls all the time. I could let the guys bust my balls all day and cry about it or come back. I did love pro wrestling when I was a kid and I had a Hulk Hogan wrestling buddy that had his arm ripped off and [reattached] with dental floss. I kept ripping his arm off before I even knew how to do an arm bar."
Strikeforce Women's Bantamweight Champion Tate (12-2) is no joke, though. She has won six consecutive fights, including an arm-triangle choke submission of Marloes Coenen in the fourth round to capture the 135-pound title in July.
"People hear about the Olympics and all the armbar submissions and they put her on a pedestal. A lot of people buy into the hype," Tate said. "In my opinion, she hasn't fought any fights yet. She's never done any striking. She seems desperate to finish early and doesn't want to be out there. She just wants to get out of there."
Tate also seems annoyed at the fact the challenger is a 3-to-1 favorite at the moment.
"Everybody's asking me (if I have) been training on (my) armbar defense," Tate noted. "My answer is no because I don't even plan on being there. I'm not going to let her dictate the fight. What about what I'm going to do?"
Of course, we're HustleTweeting about Tate vs Rousey, and you're more than welcome to join the conversation by following THE HEYMAN HUSTLE on Twitter HERE or write to us directly at hustleoncrave@gmail.com Hey, have you checked out the Hustle's Ultra High Quality You Tube Channel, with exclusive videos featuring BROCK LESNAR'S "HERE COMES THE PAIN" … ICE-T AND COCO's SEX SECRETS … THE ULTIMATE WELTERWEIGHT BAD ASS NICK DIAZ … CONTROVERSIAL TEEN SENSATION TAYLOR MOMSEN … LEGENDARY MMA PIONEER FRANK SHAMROCK … THE WALKING RIOT MISSY HYATT … if you're not subscribing, you're missing something … and by the ways cheapos, it's FREE! Yes, absolutely 100 percent FREE! What are you waiting for? Check it out HERE!
By the way, we're also old school social networkers, so check out our interactive skills on Facebook HERE and even on MySpace HERE. If you're on Friendster, GFY … and have a pleasant tomorrow!
HERE IT IS … MIESHA TATE AND RONDA ROUSEY LITERALLY BUMPING HEADS!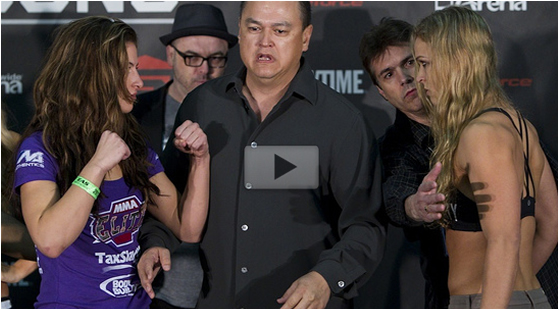 IT'S TIME FOR AN ALL NEW EDITION OF THE HOLLYWOOD CHARLIE
MEDIA WATCH, OUR DAILY TRAVEL ACROSS THE WORLD WIDE WEB.
OUR HIGHLY TRAINED MONKEYS HAVE PICKED OUT THE 15 WILDEST
STORIES FROM THE INTERNET FOR YOUR ASTUTE REVIEW. YOUR PART
IS VERY EASY. ALL YOU NEED TO DO IS PICK A PIC … AND CLICK!