BREAKING NEWS! Our own Hustler De Tuti Hustlers Paul Heyman travels to Las Vegas to interview the former Heavyweight Champion of the World about UFC Light Heavyweight Champion Jon Jones' recent fall from grace. Who would be able to relate to Jones' troubles better than The Baddest Man on the Planet?
UFC Light Heavyweight Champion Jon Jones, perhaps the single most dominant champion in MMA at the moment, had his entire image shattered early Saturday morning when he was arrested early Saturday morning for a DUI after smashing his Bentley into a pole in Broome County, New York. While Jones emerged from the accident unharmed, his reputation has taken a severe hit. The 24 year old is the only fighter actually sponsored by the UFC promotion itself, and reports state he was working his way towards a breakthrough sponsorship deal with Nike.
Shortly after the arrest for suspicion of DUI, Jones' manager Malki Kawa released a statement on the arrest.
"I can confirm that Jon Jones was arrested early this morning on suspicion of DUI," Kawa stated. "While the facts of this situation are still being gathered and situated, First Round Management fully supports Jon and we are asking for fans and media to respect the privacy of Jon and his family during this time." Jones, who recently defended his championship against former best friend and training partner Rashad Evans, is scheduled to fight again when he defends the title this Fall against the legendary Dan Henderson.
"Is this an isolated incident, or did the accident uncover a far deeper problem?" asked our own Hustler De Tuti Hustlers Paul Heyman, who himself has faced his fare share of controversy over the course of his career. Paul, who recently RETURNED TO WWE TELEVISION AS THE REPRESENTATIVE FOR FORMER UFC HEAVYWEIGHT CHAMPION BROCK LESNAR and then made a subsequent appearance in which HEYMAN SERVED HHH WITH LEGAL DOCUMENTS PURPORTING TO BE A LAWSUIT FILED BY BROCK LESNAR AGAINST WWE, knew the Jones story was even more fascinating than most people understood just by looking at it on the surface.
"If this is an isolated incident, Jones needs to get out in front of the controversy, be pro-active rather than re-active, and address his audience's concerns as soon as possible," Paul stated. "If this is the first warning sign of a possible fall from grace, Jon Jones needs to address his issues and chalk this up to a valuable lesson learned."
Paul felt no one could relate to Jones' dominance in fighting, and potential fall from grace more so than the former Heavyweight Champion of the World "Iron" Mike Tyson.
Jones recently defended his championship with a five-round decision win over Rashad Evans. He is scheduled to fight Dan Henderson in September.
"The parallels are all there," Paul noted, "a kid comes out of nowhere, revolutionizes the fight game, achieves a level of success never seen before in no-time-flat, and then the reality of it all sets in when temptation sets him up for failure. People like to build up their own Supermen, but then they actually like to see what happens when Superman is confronted with a batch fat heaping serving of Kryptonite."

Paul added, "I thought no one could advise Jon as to his next move, simply based on experience, better than Mike Tyson … so we flew out to Las Vegas to get Mike's perspective on this exploding controversy."

Of course, we're HustleTweeting about THE HEYMAN HUSTLE WITH MIKE TYSON, and you're more than welcome to join the conversation by following the Hustle on Twitter HERE or write to us directly at hustleoncrave@gmail.com Hey, have you checked out the Hustle's Ultra High Quality You Tube Channel, with exclusive videos featuring BROCK LESNAR'S "HERE COMES THE PAIN" … ICE-T AND COCO's SEX SECRETS … THE ULTIMATE WELTERWEIGHT BAD ASS NICK DIAZ … CONTROVERSIAL TEEN SENSATION TAYLOR MOMSEN … LEGENDARY MMA PIONEER FRANK SHAMROCK … THE WALKING RIOT MISSY HYATT … if you're not subscribing, you're missing something … and by the ways cheapos, it's FREE! Yes, absolutely 100 percent FREE! What are you waiting for? Check it out HERE!
By the way, we're also old school social networkers, so check out our interactive skills on Facebook HERE and even on MySpace HERE. If you're on Friendster, GFY … and have a pleasant tomorrow!

CHECK OUT "IRON" MIKE TYSON'S ADVICE FOR UFC LIGHT HEAVYWEIGHT CHAMPION
JON JONES ON THIS EXCLUSIVE "HEYMAN HUSTLE" EPISODE!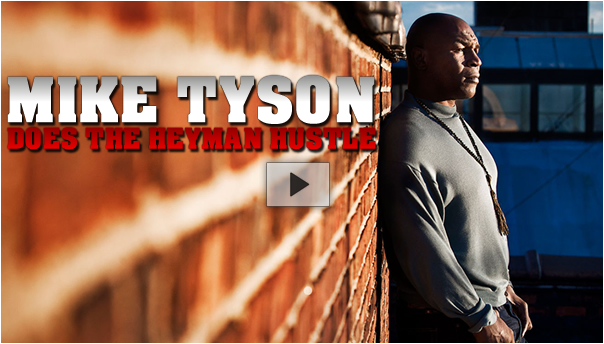 IT'S TIME FOR AN ALL NEW EDITION OF THE HOLLYWOOD CHARLIE
MEDIA WATCH, OUR DAILY TRAVEL ACROSS THE WORLD WIDE WEB.
OUR HIGHLY TRAINED MONKEYS HAVE PICKED OUT THE 15 WILDEST
STORIES FROM THE INTERNET FOR YOUR ASTUTE REVIEW. YOUR PART
IS VERY EASY. ALL YOU NEED TO DO IS PICK A PIC … AND CLICK!