Breaking News!
Well, he'll be gone for more than just a few days.

After BRIAN WILLIAMS ANNOUNCED HE WAS STEPPING DOWN AS ANCHOR FOR NBC NIGHTLY NEWS FOR A FEW DAYS, the network revealed its idea of discipline is a little longer lasting. NBC announced today that it is suspending Williams as anchor and managing editor of NBC Nightly News for six months, without pay, effective immediately. NBC Chief Execuive Steve Burke said Williams' actions were inexcusable and jeopardized the trust he has built up with viewers during his decade as the network's lead anchor. But then, we must candidly say sadly, he expressed he opinion that Williams deserved a second chance.

Williams apologized last week for saying he was in a helicopter that was hit by a grenade while covering the Iraq War in 2003. Instead, he was in a group of helicopters and another was hit, and some veterans involved in the mission called him out on it. "Brian misrepresented events which occurred while he was covering the Iraq War in 2003," stated NBC News President Deborah Turness in a memo. "It then became clear that on other occasions Brian had done the same while telling that story in other venues. This was wrong and completely inappropriate for someone in Brian's position."

Turness said Lester Hold would continue to substitute for Williams as anchor. She also said the network's probe into Williams' statements is continuing.

Shortly after it happened during a reporting trip to Iraq in 2003, Williams explained on NBC that one of a group of helicopters he had been flying with had been hit by a rocket-propelled grenade. When he appeared on CBS' Late Show with David Letterman a decade later, the story changed (first hint that we had entered into the tangled web) to where his helicopter had been hit, which Williams now admits is false. It wasn't until he told the same story on "Nightly News" last month and veterans who had been there complained that the embellishment emerged.

In Israel in 2006, Williams explained to his news viewers that he'd been on an Israeli helicopter and saw a trail of smoke and dust where Hezbollah rockets had landed in the Israeli countryside, and described seeing rockets being launched six miles from his location. The story became more dramatic when he appeared on "The Daily Show" a month later.

"Here's a view of rockets I have never seen, passing underneath us, 1,500 feet beneath us," Williams said. "And we've got the gunner doors on this thing, and I'm saying to the general, some four-star, `It wouldn't take much for them to adjust the aim and try to do a ring toss right through our open doors, would it?'"

BRIAN WILLIAMS LAMBASTED ON WWE NETWORK BY OUR BOSS PAUL HEYMAN!

BRIAN WILLIAMS STEPS DOWN AS NBC NIGHTLY NEWS ANCHOR AS CONTROVERSY GROWS!

Of course, we're HustleTweeting about Brian Williams, and join the conversation by following the Hustle on Twitter HERE or write to us directly at hustleoncrave@gmail.com Hey, have you checked out the Hustle's Ultra High Quality You Tube Channel, with exclusive videos featuring OUR WORLD EXCLUSIVE WITH MIKE TYSON … BROCK LESNAR'S "HERE COMES THE PAIN" … ICE-T AND COCO's SEX SECRETS … MMA BAD BOY NICK DIAZ … the list goes on and on, so if you're not subscribing, you're missing something … and by the ways cheapos, it's FREE! Yes, absolutely 100 percent FREE! What are you waiting for? Check it out HERE!
By the way, we're also old school social networkers, so check out our interactive skills on Facebook HERE and even on MySpace HERE. If you're on Friendster, GFY … and have a pleasant tomorrow!
PAUL HEYMAN TAKES BRIAN WILLIAMS TO TASK …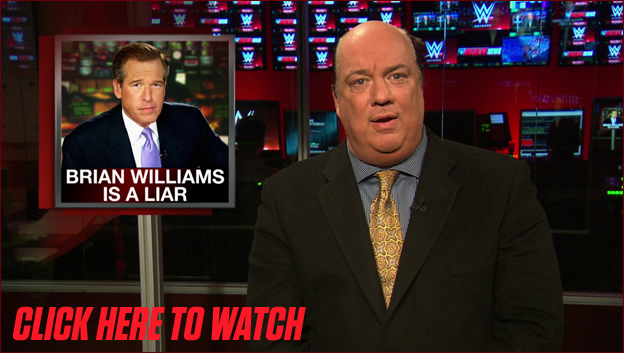 WE HERE AT THE HEYMAN HUSTLE HAVE ENSLAVED HIGHLY TRAINED
MONKEYS TO IGNORE THE FACT THEY ARE OVERWORKED AND UNDERPAID,
ALL IN THE NAME OF SCOURING THE WORLD WIDE WEB TO FIND THE FIFTEEN
MOST PROVOCATIVE STORIES ON THE INTERNET. ALL FOR YOU. NO ONE ELSE
BUT YOU. JUST YOU. AND ALL YOU NEED TO DO IS PICK WHICH PIC TO CLICK!