The Shadow of Georges St-Pierre Looms Large Over The Highly Anticipated Welterweight Showdown This Weekend!
Nick Diaz respects Carlos Condit. Anyone watching the UFC 143 Pre-Fight Press Conference can tell that.
Asked about the shadow of Georges St-Pierre blocking out the exposure Condit should be enjoying in this main event for the Interim Welterweight Championship, Diaz responded, "I think it makes me sick … This is Carlos' time to be here, and to be a part of this main event … Half of the show is built up around me fighting Georges St-Pierre. But … I'm fighting Carlos Condit … I don't like it."

GSP is in Las Vegas. He has been quite visible this week, even speaking with the media yesterday to discuss his knee injury. Georges says he "hopes and prays" Diaz wins, so he can fight him.
Diaz noted to the media at the pre-fight press conference the difference between GSP and Condit. "You're more in danger of losing a decision to Georges St-Pierre. I think you're more in danger of losing your teeth if you're fighting Condit."
Condit had a lot of praise for Diaz as well. He noted, "Nick is probably the toughest dude I've ever fought. He's well-rounded, he has a pretty dynamic skill set. He's pretty similar to me. We both come to fight. No matter who wins, fans are going to win because it's going to be a phenomenal fight."

Of course, we're HustleTweeting about Nick Diaz, Carlos Condit, and UFC 143, which means you are more than welcome to join the conversation by following THE HEYMAN HUSTLE on Twitter HERE or write to us directly at hustleoncrave@gmail.com Hey, have you checked out the Hustle's Ultra High Quality You Tube Channel, with exclusive videos featuring BROCK LESNAR'S "HERE COMES THE PAIN" … ICE-T AND COCO's SEX SECRETS … THE ULTIMATE WELTERWEIGHT BAD ASS NICK DIAZ … CONTROVERSIAL TEEN SENSATION TAYLOR MOMSEN … LEGENDARY MMA PIONEER FRANK SHAMROCK … THE WALKING RIOT MISSY HYATT … if you're not subscribing, you're missing something … and by the ways cheapos, it's FREE! Yes, absolutely 100 percent FREE! What are you waiting for? Check it out HERE!
By the way, we're also old school social networkers, so check out our interactive skills on Facebook HERE and even on MySpace HERE. If you're on Friendster, GFY … and have a pleasant tomorrow!
ZUFFA PRESENTS THE UFC 143 PRE-FIGHT PRESS CONFERENCE!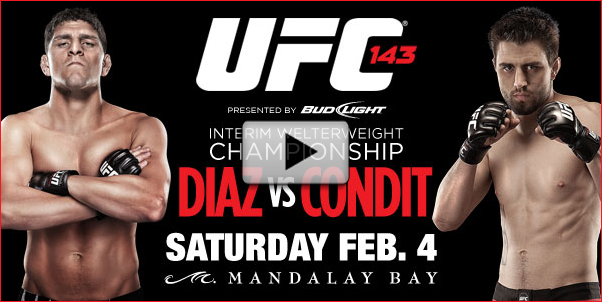 THE HEYMAN HUSTLE'S VERY OWN TRAINED MONKEYS ARE PROUD
TO PRESENT THE TOP 15 STORIES OF THE DAY, ALL CONVENIENTLY
LINKED HERE FOR YOUR REVIEW. NO NEED TO SURF THE WEB, WE
DID ALL THE HARD WORK FOR YOU. JUST PICK A PIC AND CLICK!
\