The Stockton Street Tough Ups The Ante In An Interesting Game of "Blink" Against Dana White!

A press release issued by boxing promoter Don Chagrin trumpeted the big news that Strikeforce Welterweight champion has signed to fight Former IBF champion Jeff Lacy in a boxing match tentatively scheduled for this coming Fall, 2011.
This is obviously Diaz's pressure tactic on UFC PRESIDENT DANA WHITE and Zuffa to sign a Title vs Title Unification Bout between Diaz and UFC Welterweight Champion GEORGES ST-PIERRE
In an interview posted online this week, Diaz's manager and trainer Cesar Gracie stated the right with Lacy was going to happen unless Dana White agreed to match Diaz up against GSP.
Regarding the possibility Diaz would pull out of the boxing match in order to accept a fight with GSP, Gracie said he informed promoter Chagrin of that possibility, and Chagrin would "have to be cool with that."
When Silicon Valley Sports and Entertainment was trying to quietly sell Strikeforce in December, they signed Diaz to a new mult-fight contract which carved out one professional boxing match in 2011.
"My whole thing has been to have Nick box and then fight GSP," Gracie stated online this week, "If (UFC) is serious about Nick fighting GSP, and if the fight happens in the fall, then yeah, we're probably going to go with that fight."
"We're trying to work (with UFC) and not step on any toes over there," Gracie offered, "It's been a work in progress, and they probably at this point have the ultimate say."
We're HustleTweeting about Nick Diaz and his standoff with UFC, and you're more than welcome, to join the conversation by following the Hustle on Twitter HERE or write to us directly at hustleoncrave@gmail.com
You can also subscribe (for FREE, cheapos, absolutely FREE) to our Ultra High Quality YouTube Channel HERE, and don't forget to check out our old school social networking skills by visiting us on Facebook HERE and even on MySpace HERE
CLICK ON THE VIDEO TO SEE NICK DIAZ INTERVIEWED BY OUR OWN
HUSTLER DE TUTI HUSTLERS PAUL HEYMAN ON "THE HEYMAN HUSTLE!"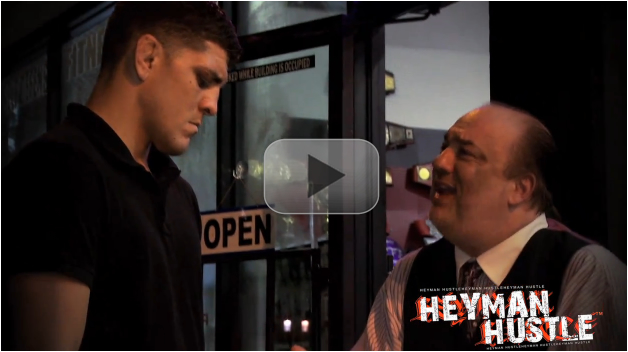 IT'S TIME FOR AN ALL NEW EDITION OF THE HOLLYWOOD CHARLIE
MEDIA WATCH, OUR DAILY TRAVEL ACROSS THE WORLD WIDE WEB.
OUR HIGHLY TRAINED MONKEYS HAVE PICKED OUT THE 15 WILDEST
STORIES FROM THE INTERNET FOR YOUR ASTUTE REVIEW. YOUR PART
IS VERY EASY. ALL YOU NEED TO DO IS PICK A PIC … AND CLICK!