SpikeTV's New MMA News Show Scores a Major Coup … Well, Sort Of …
Nick Diaz has granted his first interview since his controversial loss via unanimous decision to Carlos Condit at UFC 143 and subsequent shocking announcement to Joe Rogan that he was quitting MMA because of the judging. The Stockton Bad Boy spoke with SPIKE's debuting MMA Uncensored program, and some may wonder exactly why Nick agreed to do the interview in the first place.
When asked about his upcoming hearing with the Nevada State Athletic Commission to address his flunked drug screening, which was the second time in five years the Nevada State Athletic Commission had found marijuana metabolites in his system, Diaz stated, "I'm under instruction not to talk about that, or any of this."
When asked about a career in professional boxing, Diaz responded "Well, I never said anything about pursuing boxing. I (haven't) really said much about anything about what I'm gonna be doing in the future. I've had what feels like a week or so to think about any of this, but I haven't really put much thought into it."
It's an interesting interview, because while Diaz really doesn't touch on anything whatsoever, it's classic Diaz doing what he does best. Just being himself.
Of course, we're HustleTweeting about Nick Diaz's first interview since UFC 143, and you're more than welcome to join the conversation by following THE HEYMAN HUSTLE on Twitter HERE or write to us directly at hustleoncrave@gmail.com Hey, have you checked out the Hustle's Ultra High Quality You Tube Channel, with exclusive videos featuring BROCK LESNAR'S "HERE COMES THE PAIN" … ICE-T AND COCO's SEX SECRETS … THE ULTIMATE WELTERWEIGHT BAD ASS NICK DIAZ … CONTROVERSIAL TEEN SENSATION TAYLOR MOMSEN … LEGENDARY MMA PIONEER FRANK SHAMROCK … THE WALKING RIOT MISSY HYATT … if you're not subscribing, you're missing something … and by the ways cheapos, it's FREE! Yes, absolutely 100 percent FREE! What are you waiting for? Check it out HERE!
By the way, we're also old school social networkers, so check out our interactive skills on Facebook HERE and even on MySpace HERE. If you're on Friendster, GFY … and have a pleasant tomorrow!
CHECK OUT THE NICK DIAZ INTERVIEW FROM SPIKE'S MMA UNCENSORED!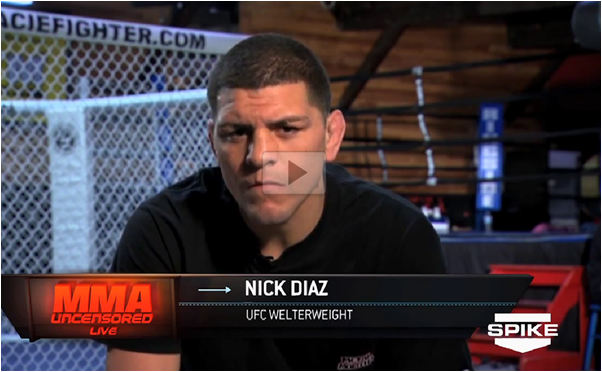 IT'S TIME FOR AN ALL NEW EDITION OF THE HOLLYWOOD CHARLIE
MEDIA WATCH, OUR DAILY TRAVEL ACROSS THE WORLD WIDE WEB.
OUR HIGHLY TRAINED MONKEYS HAVE PICKED OUT THE 15 WILDEST
STORIES FROM THE INTERNET FOR YOUR ASTUTE REVIEW. YOUR PART
IS VERY EASY. ALL YOU NEED TO DO IS PICK A PIC … AND CLICK!