UFC's Most Controversial Welterweight Fights Back Against The Nevada State Athletic Commission … And You Can Read His Lawyers' Entire Argument Against The NSAC Here!
Nick Diaz has hired a high profile law firm, and the battle is on regarding the Nevada State Athletic Commission's complain for disciplinary action that he tested positive for a prohibited substance following his UFC 143 main event against Carlos Condit on February 4th in Las Vegas.
Diaz's lawyers filed their response on March 7, contesting the decision by the NSAC to temporarily suspend Diaz's license to fight following the findings of a urine test in which Diaz tested positive for "marijuana metabolites."
According to Diaz's attorney, Ross Goodman, "marijuana metabolites" are not a prohibited substance according to the list used by the NSAC, which is adopted from the World Anti-Doping Agency. "Marijuana is the only substance that is prohibited; not marijuana metabolites," Goodman stated yesterday, "The basis to discipline Mr. Diaz is that he tested positive for a prohibited substance. We know he didn't test positive for marijuana. So, you look to see at WADA whether marijuana metabolites are prohibited. They do not prohibit it in any category."
In a sworn affidavit submitted with the response, Diaz stated he has been diagnosed with Attention Deficit Hyperactivity Disorder, and has been prescribed medical marijuana as treatment by his physician, Robert E. Sullivan. Medical marijuana is legal in both Nevada and California, the State in which Diaz resides.
Diaz and his camp have said the fighter suspends his use of marijuana eight days prior to a contest. Under the statutes set forth by the NSAC, athletes are not punished for using marijuana out-of-competition.
Goodman asserts the substance Diaz tested positive for was THC-Carboxylic Acid, an inactive marijuana metabolite. NSAC Executive Director Keith Kizer was unavailable to comment on that claim Monday when ESPN attempted to reach him.
The response filed to the commission by the Goodman law firm asserts strongly that Diaz merely tested positive for an inactive metabolite, which is not listed as a prohibited substance.
"You have to test positive for marijuana, as opposed to this inactive ingredient Nick did," Goodman said. "If there's nothing in the rules prohibiting marijuana metabolites, why are we here?"
Athletes are provided the option to submit an application to the NSAC requesting therapeutic exemptions for different substances. Goodman asserts that Diaz did not avail himself of that option because he discontinues use eight days before a contest, which Goodman says is long enough for the effects of the active compound in marijuana, THC, to wear off.
In the response to the NSAC, Goodman asserts that the "long detection window" of marijuana in a person's system is a potential reason why WADA does not include metabolites on its banned substance list.
The assertion by the Goodman firm is that since marijuana is not prohibited to athletes out-of-competition per commission standards, it would be unreasonable for its banned substance list to contain marijuana metabolites.
"Why punish Nick, or anybody else for that matter, for a metabolite?" Goodman stated. "We're not talking about a cocaine metabolite. We're not talking about something illegal. We're talking about a metabolite that stays in your system for weeks or months."
In 2007, Nick Diaz tested positive for marijuana following his submission victory over Takanori Gomi in Las Vegas, resulting in a six month suspension and the result changed to a no-contest. Being flagged on this marijuana drug screening could result in a one year suspension.
A formal hearing to sentence Diaz was expected to take place in April, but Goodman told ESPN that date might be delayed due to Monday's filing. You can almost place bets on that being the case.
CLICK HERE TO READ THE ENTIRE RESPONSE FILED BY THE GOODMAN LAW FIRM ON BEHALF OF NICK DIAZ TO THE NEVADA STATE ATHLETIC COMMISSION!
Of course, we're HustleTweeting about Nick Diaz vs The NSAC, and you're more than welcome to join the conversation by THE HEYMAN HUSTLE on Twitter HERE or write to us directly at hustleoncrave@gmail.com Hey, have you checked out the Hustle's Ultra High Quality You Tube Channel, with exclusive videos featuring BROCK LESNAR'S "HERE COMES THE PAIN" … ICE-T AND COCO's SEX SECRETS … THE ULTIMATE WELTERWEIGHT BAD ASS NICK DIAZ … CONTROVERSIAL TEEN SENSATION TAYLOR MOMSEN … LEGENDARY MMA PIONEER FRANK SHAMROCK … THE WALKING RIOT MISSY HYATT … if you're not subscribing, you're missing something … and by the ways cheapos, it's FREE! Yes, absolutely 100 percent FREE! What are you waiting for? Check it out HERE!
By the way, we're also old school social networkers, so check out our interactive skills on Facebook HERE and even on MySpace HERE. If you're on Friendster, GFY … and have a pleasant tomorrow!
CHECK OUT NICK DIAZ WITH OUR OWN HUSTLER DE TUTI HUSTLERS
PAUL HEYMAN ON A MEMORABLE EPISODE OF "THE HEYMAN HUSTLE!"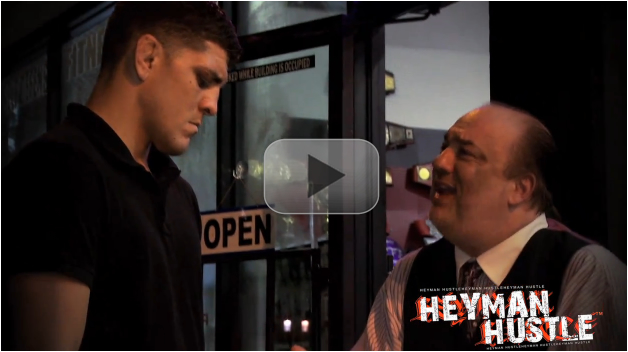 IT'S TIME FOR AN ALL NEW EDITION OF THE HOLLYWOOD CHARLIE
MEDIA WATCH, OUR DAILY TRAVEL ACROSS THE WORLD WIDE WEB.
OUR HIGHLY TRAINED MONKEYS HAVE PICKED OUT THE 15 WILDEST
STORIES FROM THE INTERNET FOR YOUR ASTUTE REVIEW. YOUR PART
IS VERY EASY. ALL YOU NEED TO DO IS PICK A PIC … AND CLICK!