UFC's Ultimate Bad Boy Is Willing To Come Out of His Self-Imposed Retirement, But Only If He Can Have a Fight "That Matters" … and He Wants A Bite at The Spider!
Welterweight Bad Ass Nick Diaz is currently suspended, and also in the midst of a self-imposed retirement, but now the Stockton, California native may be eyeing a return to the Octagon, but he wants fights "that matter."

This is according to Diaz's head coach, manager, and close confidante Cesar Gracie. And when Gracie says Diaz wants fights "that matter," the fight they're picking is with UFC Middleweight Champion Anderson Silva.

In a blog that Gracie posted on GRACIE FIGHTER, Cesar wrote that Diaz would take a Catchweight Fight with Anderson Silva "in a minute," and that if Silva won't come down, Diaz is willing to go up to 185 for the fight.

In the article, entitled Future of Nick Diaz, Gracie states that Diaz (27-8 MMA, 7-5 UFC) has made his intentions clear.
"As far as future opponents, Nick has stated that he would like to take fights 'that matter,'" Gracie wrote. "Since GSP will be fighting Condit, he has to look elsewhere. He will respectfully ask for a fight with Anderson Silva, a fighter he respects and would like to challenge.
"Silva's camp has been speaking of a fight with GSP, possibly even at a Catchweight. Nick will take that fight in a minute but has told me that should Silva decide not to drop at all, he will move up to 185 (pounds) to face the champ."
Diaz is eligible to reapply for a license in Nevada on February 4, 2013. He will, however, need to pass a drug test to get licensed.
"For the last couple of months I've watched Nick begin to frequent the gym more and more," Gracie stated. "He's training harder now than he has for many of his fights. It was obvious that training and fighting is in his DNA. It is who he is. This week we had a great talk and he made it clear to me that he is ready to get back to the cage. Nick Diaz will return. To address the NSAC suspension, I will say that we have appealed to the courts and if things go our way, it will be plausible that Nick could return as early as sometime at the end of this year."
Gracie stated that he has a meeting set up with UFC President Dana White for August 6th to discuss Diaz and the possibility of Diaz fighting again in UFC.
Before Diaz's loss to Carlos Condit in what was, to say the least, a controversial unanimous decision, Diaz had an 11-fight win streak that dated back to November 2007. Over that stretch, he won Strikeforce's Welterweight Title and defended the championship successfully three times before vacating it to sign with the UFC.
Diaz was expected to fight St-Pierre at UFC 137, but when he missed a pair of news conferences to promote the fight, Dana White pulled him in favor of Condit, and then booked Diaz to face B.J. Penn. St-Pierre then got hurt, putting Diaz-Penn into the main event, which Diaz won with shocking ease. Dana White then gave Diaz a second shot at St-Pierre, when the GSP again was injured, the Diaz vs Condit fight became the main event at UFC 143 for the Interim Championship.

Of course, we're HustleTweeting about Nick Diaz, and you're more than welcome to join the conversation by following THE HEYMAN HUSTLE on Twitter HERE or write to us directly at hustleoncrave@gmail.com Hey, have you checked out the Hustle's Ultra High Quality You Tube Channel, with exclusive videos featuring BROCK LESNAR'S "HERE COMES THE PAIN" … ICE-T AND COCO's SEX SECRETS … THE ULTIMATE WELTERWEIGHT BAD ASS NICK DIAZ … CONTROVERSIAL TEEN SENSATION TAYLOR MOMSEN … LEGENDARY MMA PIONEER FRANK SHAMROCK … THE WALKING RIOT MISSY HYATT … if you're not subscribing, you're missing something … and by the ways cheapos, it's FREE! Yes, absolutely 100 percent FREE! What are you waiting for? Check it out HERE!
By the way, we're also old school social networkers, so check out our interactive skills on Facebook HERE and even on MySpace HERE. If you're on Friendster, GFY … and have a pleasant tomorrow!
CHECK OUT NICK DIAZ ALONG WITH OUR OWN HUSTLER DE TUTI HUSTLERS
PAUL HEYMAN ON THE 2nd SEASON PREMIERE OF "THE HEYMAN HUSTLE!"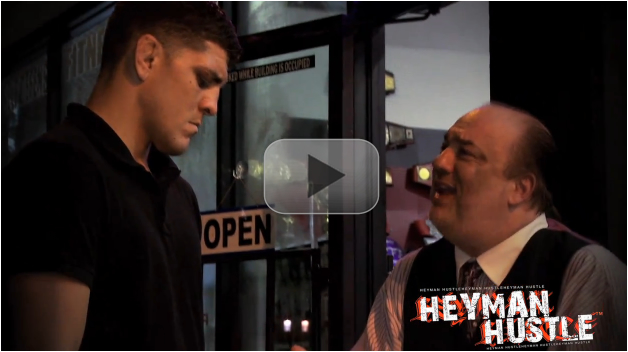 IT'S TIME FOR AN ALL NEW EDITION OF THE HOLLYWOOD CHARLIE
MEDIA WATCH, OUR DAILY TRAVEL ACROSS THE WORLD WIDE WEB.
OUR HIGHLY TRAINED MONKEYS HAVE PICKED OUT THE 15 WILDEST
STORIES FROM THE INTERNET FOR YOUR ASTUTE REVIEW. YOUR PART
IS VERY EASY. ALL YOU NEED TO DO IS PICK A PIC … AND CLICK!