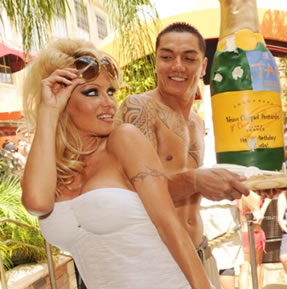 America's Favorite Rapidly-Aging Popwreck Celebrates Her 43rd Birthday In The City of Sin!
Pam Anderson got paid some mega-bucks, and got to keep her clothes on, as the buxom Baywatch babe celebrated 43 long hard years on this planet at Tao Beach at the Venetian Hotel and Casino in Las Vegas. The original "stolen sex tape" starlet was in typical rare form (an oxymoron most of the time, but not for our girl Pammie!), and gave the photogs plenty of photo opps with her champagne bottle antics.

CLICK HERE TO SEE THE WILDEST PAM ANDERSON PRESS CONFERENCE EVER!

CLICK HERE TO SEE THE NOW-INFAMOUS "BANNED FROM TELEVISION" PAM COMMERCIAL!

Pam, who wore a see-thru skinky white dress, is enjoying renewed popularity based on her performances on the latest season of "Dancing With The Stars." The party was packed, which caught some off guard since the festivities for Pammie's birthday began at 10am. We've seen Pam stumbling out of parties from the night before that late. But why bring up the past? Hey, why not?

CLICK HERE FOR PICS OF PAM ANDERSON CHANNELING HER INNER JENNA JAMESON!

CLICK HERE FOR PICS OF PAM PARTYING WITH ICE-T's HUSTLE HOTTIE WIFE COCO!

Once the party was over, Pam was jetting off to London. Or somewhere. We were told it was London. We don't see any young rock stars named London at the moment, so maybe they were talking about the city. Or maybe it was something about Big Ben.

Which, of course, would explain what she was doing with that champagne bottle.

Happy Birthday, Pam! Here's to many many more!
CLICK ON THE PICS BELOW FOR THE ENTIRE
PAM ANDERSON BIRTHDAY BASH PHOTO GALLERY!

THE HEYMAN HUSTLE'S VERY OWN TRAINED MONKEYS ARE PROUD
TO PRESENT THE TOP 15 STORIES OF THE DAY, ALL CONVENIENTLY
LINKED HERE FOR YOUR REVIEW. NO NEED TO SURF THE WEB, WE
DID ALL THE HARD WORK FOR YOU. JUST PICK A PIC AND CLICK!