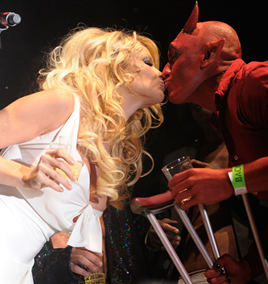 It's another decade, and another calendar year that separates Pam Anderson from "the height of her career." The Bodacious Baywatch Babe rang in Twenty Ten at Hollywood's biggest party, which took place at Gridlock @ Paramount Studios.
Pammy showed up with a posse (posse, we said, posse) that included a bunch of guys dressed up as dogs and demons, but seemed enchanted by American Idol sensation Adam Lambert.

Pam slurred in the New Year, and then introduced Adam to the crowd. Along the way, she let Lambert take a look at the goods, but was allegedly too smashed to realize she's playing to the wrong audience with him.

Pam shows Adam the miracle of modern surgery HERE, HERE, and HERE.
Ah, the frivolity of it all!
CLICK ON THE PICS BELOW
FOR FULL EXPOSURE COVERAGE OF
PAM ANDERSON'S WILD NEW YEAR'S EVE!
---
IT'S THE VERY FIRST MEDIA WATCH OF TWENTY TEN.
HAPPY NEW YEAR EVERYONE! TO MAKE THIS A JOYOUS
AND FESTIVE NEW DECADE, JUST PICK A PIC … AND CLICK!