The Hustler De Tuti Hustlers To Crash LIVE onto the WWE Network at 7pm!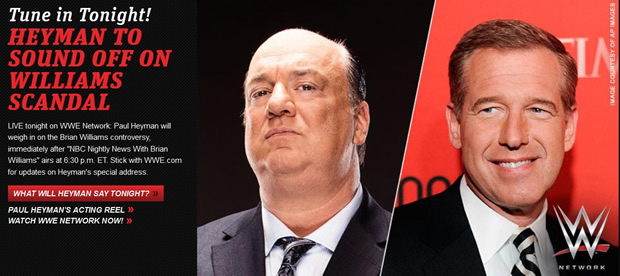 The Hustler De Tuti Hustlers To Crash LIVE onto the WWE Network at 7pm!
Our Boss Paul Heyman was in our offices here at THE LOOKING4LARRY AGENCY today when the phone call came in. WWE Network was going to break into its own programming LIVE tonight at 7pm Eastern Time to broadcast Paul's take on the entire Brian Williams scandal. The embattled NBC News anchor has found him in the headlines, instead of reporting them, for what can –at best — be labeled "embellishing" a story about his involvement in a helicopter incident while reporting from Iraq shortly before he took over the NBC News anchor position from Tom Brokow. The Williams scandal runs deep into the American consciousness, since the news anchors are supposed to be trusted to deliver news that you can trust. As we post this story, our boss is on his way up to WWE Headquarters in Stamford, Connecticut to address the entire WWE Universe on the situation. Of course, we're HustleTweeting about Paul Heyman vs Brian Williams, and you're more than welcome to join the conversation by following the Hustle on Twitter HERE or write to us directly at hustleoncrave@gmail.com Hey, have you checked out the Hustle's Ultra High Quality You Tube Channel, with exclusive videos featuring OUR WORLD EXCLUSIVE WITH MIKE TYSON … BROCK LESNAR'S "HERE COMES THE PAIN" … ICE-T AND COCO's SEX SECRETS … MMA BAD BOY NICK DIAZ … the list goes on and on, so if you're not subscribing, you're missing something … and by the ways cheapos, it's FREE! Yes, absolutely 100 percent FREE! What are you waiting for? Check it out HERE!
By the way, we're also old school social networkers, so check out our interactive skills on Facebook HERE and even on MySpace HERE. If you're on Friendster, GFY … and have a pleasant tomorrow!

WE HERE AT THE HEYMAN HUSTLE HAVE ENSLAVED HIGHLY TRAINED
MONKEYS TO IGNORE THE FACT THEY ARE OVERWORKED AND UNDERPAID,
ALL IN THE NAME OF SCOURING THE WORLD WIDE WEB TO FIND THE FIFTEEN
MOST PROVOCATIVE STORIES ON THE INTERNET. ALL FOR YOU. NO ONE ELSE
BUT YOU. JUST YOU. AND ALL YOU NEED TO DO IS PICK WHICH PIC TO CLICK!