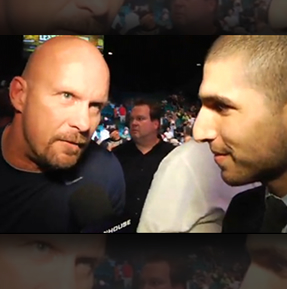 AOL's Ariel Helwani scored a major coup when he interviewed Paul Heyman, Stone Cold Steve Austin, Bill Goldberg, and Jim Ross live at cageside after Brock Lesnar's thrilling victory over Shane Carwin in the main event of UFC 116.
CLICK HERE TO SEE ARIEL HELWANI INTERVIEW PAUL HEYMAN, STONE COLD STEVE AUSTIN, BILL GOLDBERG, AND JIM ROSS LIVE AT CAGESIDE DIRECTLY FOLLOWING UFC 116!

Ariel Helwani interviewed Paul on a variety of subjects earlier in the week leading into UFC 116, discussing his friendship with Brock Lesnar; their common past in pro wrestling; whether Paul misses the pro wrestling industry; and whether Paul would ever want to compete with UFC. You can check out the entire interview from AOL HERE

We're HustleTweeting about UFC 116, Brock Lesnar, Cain Velasquez, Chris Leben, Yohihiro Akiyama, Ariel Helwani, and all topics related to THE HEYMAN HUSTLE. We'd love to have you join the conversation. Follow us on Twitter HERE
CLICK ON THE PHOTOS BELOW FOR AN EXCLUSIVE
LOOK AT BROCK LESNAR VS SHANE CARWIN IN
THE MAIN EVENT OF UFC 116 LAST SATURDAY NIGHT!

THE HEYMAN HUSTLE'S VERY OWN TRAINED MONKEYS ARE PROUD
TO PRESENT THE TOP 15 STORIES OF THE DAY, ALL CONVENIENTLY
LINKED HERE FOR YOUR REVIEW. NO NEED TO SURF THE WEB, WE
DID ALL THE HARD WORK FOR YOU. JUST PICK A PIC AND CLICK!