Our Very Own Hustler De Tuti Hustlers Paul Heyman is helped back to the locker room in the aftermath of CM Punk vs The Rock at WWE Elimination Chamber pay per view!
New Orleans, Louisiana will reportedly host the 30th Annual WrestleMania next year, but on this particular Sunday night, CM PUNK VS THE ROCK was front and center for the WWE Elimination Chamber pay per view, the final pay per view event from WWE before this year's 29th Annual WrestleMania from Met Life Stadium in New Jersey.
WWE.com has posted an exclusive video of what happened with our very own Hustler De Tuti Hustlers Paul Heyman after the event, and we're HustleTweeting about it right now. Please feel free to join the conversation by following the Hustle on Twitter HERE … Hey, we're also on Facebook HERE … and since we haven't updated our MySpace page even though Justin Timberlake has invested in your grandpa's social media, you're welcome to check out our much-ignored page HERE.

PAUL HEYMAN IS HELPED BACK TO THE LOCKER ROOM AFTER GETTING
ACCIDENTALLY KNOCKED OUT BY CM PUNK AND THE WWE TITLE BELT
AT THE CONCLUSION OF THE WWE ELIMINATION CHAMBER PAY PER VIEW!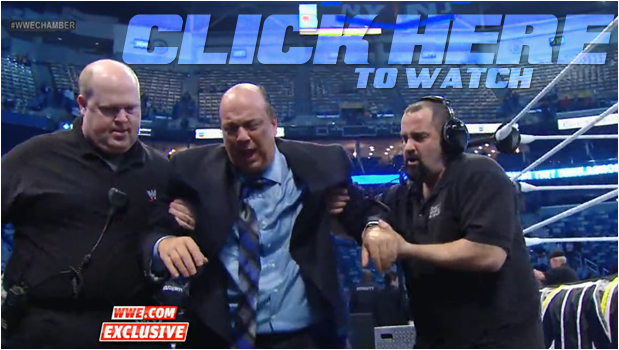 WE HERE AT THE HEYMAN HUSTLE HAVE ENSLAVED HIGHLY TRAINED
MONKEYS TO IGNORE THE FACT THEY ARE OVERWORKED AND UNDERPAID,
ALL IN THE NAME OF SCOURING THE WORLD WIDE WEB TO FIND THE FIFTEEN
MOST PROVOCATIVE STORIES ON THE INTERNET. ALL FOR YOU. NO ONE ELSE
BUT YOU. JUST YOU. AND ALL YOU NEED TO DO IS PICK WHICH PIC TO CLICK!