The Ending After The Ending Has Everyone Talking!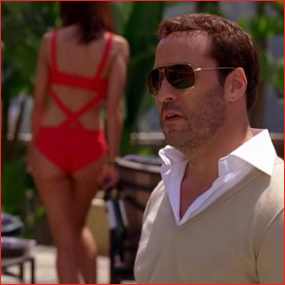 The Ending After The Ending Has Everyone Talking!
The series finale of HBO's Entourage was described by our own Hustler De Tuti Hustlers Paul Heyman on THE HEYMAN HUSTLE TWITTER PAGE in the following way:
Since I've been asked this all week, I thought the wrap-up for the Entourage characters was "eh," just standard fare … almost sitcom-esque in all the characters found their true selves, completed their journeys, etc … but that's what the audience has been so emotionally invested in for the past several years, so no bitching. bitches … However (and here it comes, the dreaded big "however") …I loved the ending after the credits. Not just for Mrs. Ari's fabulous arched ass, but especially for @JeremyPiven's Ari Gold's new dilemma. All in all, a very well done farewell to the boys of Entourage, until … of course … they do the movie.
Entourage ended its run by playing Led Zepplin's "Going to California," and then the end credits. But wait! There was more! Somewhere in Italy, Ari and Mrs. Ari are living the high life when the phone rings. And when the phone rings near Ari Gold, you can bet business is on the other line. John Ellis (Alan Dale) wants Ari to be the Chairman and CEO of his studio. "You want to know what heaven really is, Ari, try being God," John tells him.
Which life will Ari choose?
Aha!
Now we have a real cliffhanger!
Of course, we're discussing this at length with our HustleTweeters, and you're more than welcome to join the conversation by following the Hustle on Twitter HERE or write to us directly at hustleoncrave@gmail.com Hey, have you checked out the Hustle's Ultra High Quality You Tube Channel, with videos featuring ICE-T AND COCO's SEX SECRETS … THE ULTIMATE WELTERWEIGHT BAD ASS NICK DIAZ … CONTROVERSIAL TEEN SENSATION TAYLOR MOMSEN … LEGENDARY MMA PIONEER FRANK SHAMROCK … THE WALKING RIOT MISSY HYATT … if you're not subscribing, you're missing something … and by the ways cheapos, it's FREE! Yes, absolutely 100 percent FREE! What are you waiting for? Check it out HERE!
By the way, we're also old school social networkers, so check out our interactive skills on Facebook HERE and even on MySpace HERE. If you're on Friendster, GFY … and have a pleasant tomorrow!
OH GO AHEAD AND CLICK THE PICS BELOW … YOU KNOW YOU WANT TO!

THE HEYMAN HUSTLE'S VERY OWN TRAINED MONKEYS ARE PROUD
TO PRESENT THE TOP 15 STORIES OF THE DAY, ALL CONVENIENTLY
LINKED HERE FOR YOUR REVIEW. NO NEED TO SURF THE WEB, WE
DID ALL THE HARD WORK FOR YOU. JUST PICK A PIC AND CLICK!