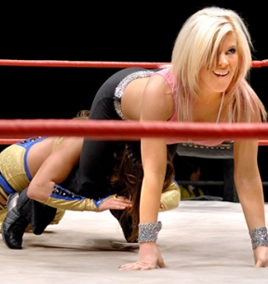 The TNA Knockouts put on a show at Wembley Arena on January 30th as part of the Total Non-Stop Action tour of the UK. The Beautiful People's Velvet Sky and Madison Rayne were the opponents for Taylor Wilde and Sarita.
If you're a fan of WWE Divas and TNA Knockouts, be sure to check out our MYSTERY LINK in the Hollywood Charlie Media Watch underneath this story. You'll love it!
CLICK ON THE PICS BELOW
TO SEE THE ENTIRE TOTAL NON-STOP GALLERY!
---
IN CASE YOU'RE LOOKING FOR ADVICE AS TO WHICH OF THESE
STORIES IS THE BEST OF THE DAY, ALL WE CAN TELL YOU IS
THAT EACH OF THEM IS HOT AS HELL, AND YOU'LL BE VERY
HAPPY NO MATTER WHICH PIC YOU PICK AND CLICK!