An Amazing Video Emerges From Quinton Jackson's After-Party at Vanity in Roppongi!
A stunning video has emerged of Quinton "Rampage" Jackson rapping at Vanity Nightclub in Roppongi following his loss to Ryan Bader at UFC 144 at the Saitama Super Arena in Saitama, Japan.
"Up early! Gonna down load some of my own new music on my phone, so I can hit the run easy, staying n great shape no matter what! Gym time!!" Rampage tweeted from his @Rampage4Real Twitter Page. "I'm about 2 do a deal n Japan, so after that ill let my best songs go, bad 1snoway."
Then Rampage tweeted, "yep, n video games, n writing movies dude, I wanna keep yall entertained even when I'm 2 old 2 fight."
Of course, Rampage was on a Rampage (how many times will we be saying that in the coming weeks and months?), and took on UFC.
"I'm upset cause I've been fighting hurt 4 a few years now, cause I have kids n 4yall," Rampage tweered. "The @ufc knew I was hurt, n almost every fight I was hurt n, but instead of saying thanks 4 not pulling out, they talk shit about a poor job I did, I never missed weight, but when I do, nobody stop 4 a second 2 ask if I was hurt, yall just quick 2 talk shit, so I'm done with them. I'm not complaining about money, cause I'm about 2 make a lot less money now, but at least the people I fight 4 will appreciate what I do4mma. I have 1 more fight on my contract n @danawhite said n a text (that I've saved) hahaha that I can go after my last fight."
Of course, we're HustleTweeting about Rampage, and you're more than welcome to join the conversation by THE HEYMAN HUSTLE on Twitter HERE or write to us directly at hustleoncrave@gmail.com Hey, have you checked out the Hustle's Ultra High Quality You Tube Channel, with exclusive videos featuring BROCK LESNAR'S "HERE COMES THE PAIN" … ICE-T AND COCO's SEX SECRETS … THE ULTIMATE WELTERWEIGHT BAD ASS NICK DIAZ … CONTROVERSIAL TEEN SENSATION TAYLOR MOMSEN … LEGENDARY MMA PIONEER FRANK SHAMROCK … THE WALKING RIOT MISSY HYATT … if you're not subscribing, you're missing something … and by the ways cheapos, it's FREE! Yes, absolutely 100 percent FREE! What are you waiting for? Check it out HERE!
By the way, we're also old school social networkers, so check out our interactive skills on Facebook HERE and even on MySpace HERE. If you're on Friendster, GFY … and have a pleasant tomorrow!
CHECK OUT THE VIDEO OF RAMPAGE'S ROPPONGI RAP!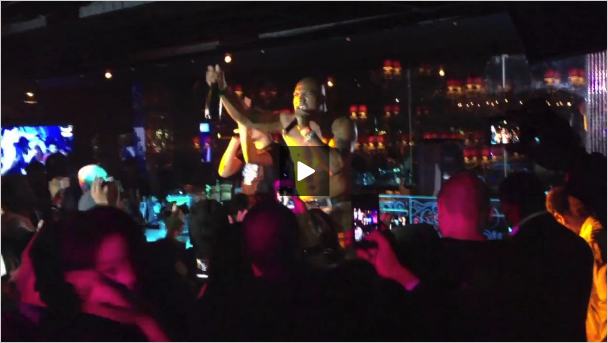 IT'S TIME FOR AN ALL NEW EDITION OF THE HOLLYWOOD CHARLIE
MEDIA WATCH, OUR DAILY TRAVEL ACROSS THE WORLD WIDE WEB.
OUR HIGHLY TRAINED MONKEYS HAVE PICKED OUT THE 15 WILDEST
STORIES FROM THE INTERNET FOR YOUR ASTUTE REVIEW. YOUR PART
IS VERY EASY. ALL YOU NEED TO DO IS PICK A PIC … AND CLICK!