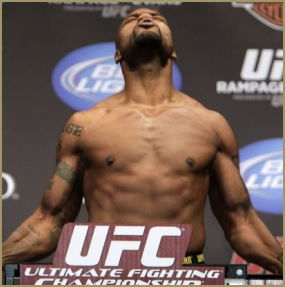 Quinton "Rampage" Jackson is about to become a multi-media superstar. In just a few hours, he will main event UFC 114 on pay per view, live from the sold out MGM Grand in Las Vegas, Nevada. His much-anticipated grudge match against Rashad Evans has been the buzz of the Ultimate Fighting crowd, and a great source of controversy, too.
In a powerful editorial posted on SI.COM by highly respected journalist Josh Gross, UFC's decision to include in the commercials for tonight's mega-event a clip of Rampage's promise of "black on black crime" is decried as "inappropriate and out of place."

Gross, who is amongst the many media professionals not granted All Access by UFC because of Dana White's decision to only allow certain reporters to attend the press conferences, continued, stating that Rampage comes off as incredibly ignorant — which is a shame because I know him to be insightful when he wants to be. He's not oblivious to race issues. Jackson liked to kid, no matter the promotion he fought for at the time, he was the "token black guy." But now Jackson says he doesn't care about race. He never thinks about race. Even if that were true, that does not give him license to ignore the power of words.

In his powerful indictment of the hype surrounding the fight, Gross articulates The more I've kicked this thing around in my head after first seeing the pay-per-view advertisement for UFC 114 a couple weeks ago — culminated by Jackson forewarning some "black on black crime" on May 29 — the more it's bothered me. I'm aware Jackson is a jester and I don't mean to come off as preachy. Actually, that's the last thing I want. But it rings unfortunate that MMA had a moment where it ran up against issues bigger than the sport, and not only did it ignore the impact of those statements, it twisted and turned them to an untenable place. Feel free to disagree. I'd argue that by reducing Jackson's phrasing to a sellable sound-bite, UFC 114 sets a bad precedent for MMA. UFC officials are somehow suggesting this type of language is fine because it doesn't really mean anything, and White doesn't see a racial component because two black men are yelling at one another. He's wrong.

The entire fight, of course, has been the subject of discussion for quite some time. Jackson's TMZ-covered Rampage through Newport Beach landed him in all sorts of legal trouble, with Ultimate Pres White standing by his side and supporting him through the ordeal. But when Hollywood called with an offer for Rampage to play the role Mr.T made famous, B.A. Barracus, in the new remake of The A-Team, UFC was forced to change the main event of UFC 107, which was to take place December 12th in Rampage's hometown of Memphis, Tennessee.

White was furious with Rampage for picking the filming over the event, especially since the Rampage vs Evans feud played out so well on The Ultimate Fighter, as well as the memorable confrontation the two had at UFC 96, when Evans and Rampage argued it out after Rampage knocked out Evans' teammate Keith Jardine.

But now the fight is on, and "on" in the biggest way imaginable. this main event has some serious momentum behind it. The first week of UFC Primetime : Rampage vs Evans was the most-watched episode in the show's history, drawing 1.2 million viewers, while this week's edition did 1.1 million viewers, which is on par with the UFC Countdown show from last year's Brock Lesnar vs Frank Mir UFC 100 event, which achieved the highest buyrate in UFC history. No MMA event, or pro wrestling event, has ever even come close.

CLICK ON THE PHOTOS BELOW TO SEE THE ENTIRE GALLERY
OF THE RAMPAGE-EVANS UFC 114 WEIGH-INS FROM LAS VEGAS!

THE HOLLYWOOD CHARLIE MEDIA WATCH IS PRESENTED TODAY
IN HARDCORE HUSTLEVISION, SERVING YOUR EXTREME WEB
NEEDS SINCE 2009. WOW. THAT'S A LOT OF EXPERIENCE, ISN'T
IT? IT ISN'T? DAMN. OK, GIVE US A BREAK. COME ON, OUR TEAM
OF HIGHLY TRAINED MONKEYS WORKED HARD ON THIS. IT'S NOT
LIKE YOUR PART IS ALL THAT HARD. JUST PICK A PIC AND CLICK!