WWE Monday Night RAW has become a battleground, as Chairman of the Board Vincent Kennedy McMahon and his son-in-law, the returning Triple H are engaged in an all-out bloody war with The Beast Incarnate Brock Lesnar and our very own Hustler De Tuti Hustlers Paul Heyman!
On Sunday, April 7th WWE will present its annual super card, the biggest night of the year in pro wrestling, WrestleMania XXIX. We already know the WWE Championship will be decided when John Cena challenges The Rock in the biggest rematch in WWE history. But will The Game return to the ring for the first time since Summer Slam and do battle with the only man in history to ever hold the NCAA Division 1 Heavyweight Championship … the Undisputed UFC Heavyweight Championship … and the Undisputed WWE Heavyweight Championship, the 6'3", 295 pound Brock Lesnar? And if so, what involvement will WWE Chairman of the Board Vincent Kennedy McMahon and our very own Hustler De Tuti Hustlers Paul Heyman play in this epic struggle?
CLICK HERE TO READ OUR COMPREHENSIVE COVERAGE OF WWE SUMMER SLAM FEATURING BROCK LESNAR'S ONE-ON-ONE BATTLE WITH TRIPLE H!
CLICK HERE TO ORDER YOUR BROCK LESNAR / #PaulHeymanGuy T-SHIRT COMBO PACKAGE!
Of course, we're HustleTweeting about the entire Brock / Heyman vs Triple H / McMahon saga, and you're more than welcome to join the conversation by following us on twitter HERE or write us directly at hustleoncrave@gmail.com Hey, have you checked out the Hustle's Ultra High Quality You Tube Channel, with exclusive videos featuring OUR WORLD EXCLUSIVE WITH MIKE TYSON … BROCK LESNAR'S "HERE COMES THE PAIN" … ICE-T AND COCO's SEX SECRETS … TEEN SENSATION TAYLOR MOMSEN … UFC BAD BOY NICK DIAZ … THE WALKING RIOT MISSY HYATT if you're not subscribing, you're missing something … and by the ways cheapos, it's FREE! Yes, absolutely 100 percent FREE! What are you waiting for? Check it out HERE!
By the way, we're also old school social networkers, so check out our interactive skills on Facebook HERE and even on MySpace HERE. If you're on Friendster, GFY … and have a pleasant tomorrow!

CHECK OUT THE WWE RAW REBOUND FEATURING THE BLOODY STRUGGLE
PITTING BROCK LESNAR AND PAUL HEYMAN AGAINST WWE CHAIRMAN OF
THE BOARD VINCENT KENNEDY McMAHON AND "THE GAME" TRIPLE H!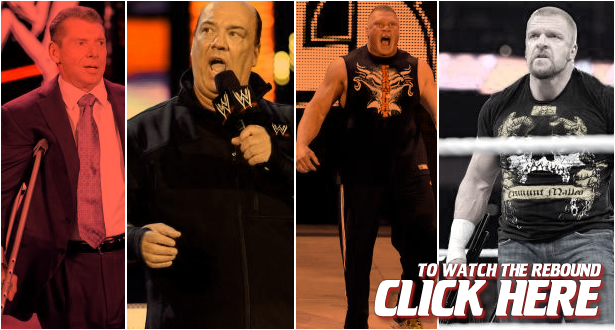 WE HERE AT THE HEYMAN HUSTLE HAVE ENSLAVED HIGHLY TRAINED
MONKEYS TO IGNORE THE FACT THEY ARE OVERWORKED AND UNDERPAID,
ALL IN THE NAME OF SCOURING THE WORLD WIDE WEB TO FIND THE FIFTEEN
MOST PROVOCATIVE STORIES ON THE INTERNET. ALL FOR YOU. NO ONE ELSE
BUT YOU. JUST YOU. AND ALL YOU NEED TO DO IS PICK WHICH PIC TO CLICK!