Our coverage of Monday Night RAW continues as our very own Hustler De Tuti Hustlers gets to name the stipulation for this Sunday's WWE Title Rematch featuring The Rock vs CM Punk!
It's a wild night on WWE Monday Night RAW, as our very own Hustler De Tuti Hustlers PAUL HEYMAN OPENED THE SHOW AND PROMPTLY TENDERED HIS RESIGNATION, which led to an emotional appearance by former champion CM Punk. Now, Paul has named the stipulation for Punk's rematch versus The Rock this Sunday, with the WWE Title on the line, as the main event of the Elimination Chamber pay per view. WWE Chairman of the Board Vincent Kennedy McMahon agreed to Paul's suggestion. But there's going to be a price to pay. What will that price be?
We're HustleTweeting on that very subject right now, and you're more than welcome to join the conversation by following the Hustle on Twitter HERE … Hey, we're also on Facebook HERE … and since we haven't updated our MySpace page even though Justin Timberlake has invested in your grandpa's social media, you're welcome to check out our much-ignored page HERE.

PAUL HEYMAN TALKS TO VICKIE GUERRERO … AND VINCE McMAHON!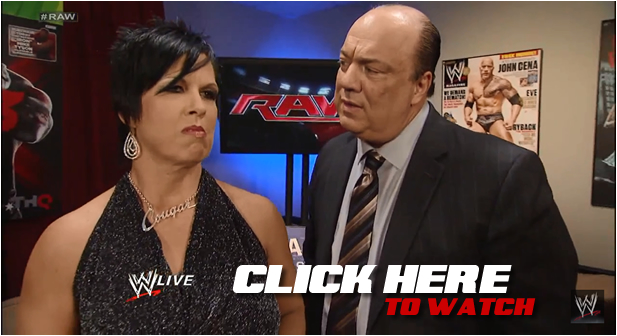 WE HERE AT THE HEYMAN HUSTLE HAVE ENSLAVED HIGHLY TRAINED
MONKEYS TO IGNORE THE FACT THEY ARE OVERWORKED AND UNDERPAID,
ALL IN THE NAME OF SCOURING THE WORLD WIDE WEB TO FIND THE FIFTEEN
MOST PROVOCATIVE STORIES ON THE INTERNET. ALL FOR YOU. NO ONE ELSE
BUT YOU. JUST YOU. AND ALL YOU NEED TO DO IS PICK WHICH PIC TO CLICK!