Rihanna is ready to be a media star. She's walking around New York City in outfits that scream "Grace Jones," and she tore it up on stage at Madison Square Garden at Jay-Z's "Answer The Call"
(CHECK OUT THE PHOTOS OF RIHANNA IN CONCERT).
Now the singer of popular hits like "Umbrella" and "Don't Stop The Music" is breaking out some new publicity photos, too.
She's on her way back. She's looking good. She's busting out new and strong moves in concert. She's playing up the media when she makes an appearance. And now, Rihanna is making sure she's the topic of conversation.
Our own Hustler De Tuti Hustlers Paul Heyman said last week, "Rihanna has the opportunity to become an inspiring hero, who faced a serious crisis and faced it with dignity and strength. If she follows up with hot new material, she can explode as an insanely popular number one chartbuster and concert ticket seller. It's Madonna Meets Oprah. It's her year, if she grabs it."
Grab yourself a look at Rihanna. Get ready, world. Chris Brown is going to lose his mind. Rihanna is ready to take over.
Rihanna
September, 2009
Click On The Photos To See The Entire Gallery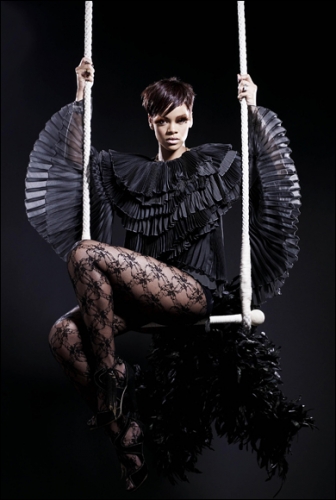 ---
LET THE CELEBRATION BEGIN!
IT'S THE HOLLYWOOD CHARLIE MEDIA WATCH
JUST CLICK ON ANY PIC-LINK TO SEE THE ENTIRE STORY