PLUS … A SPECIAL VIDEO PREVIEW OF RVD TV WITH THE VAN DAMS IN AMSTERDAM!
Recently, I received an email from someone who had interviewed me a couple years ago, and of course he had been very pleased with the interview- which is soon to be released. He was contacting me to let me know that he had seen RVD TV DVD Vol 1 and…well, let's use his words.
"I saw a copy of your RVD TV DVD, to be honest, it made me feel like I wasted my interview with you. I saw a real depth in your production, talking about laws and beliefs and it was cool. Interesting to somebody like myself as its different from the RVD that was on my television screen for so long."
This letter reminds me of what I felt like when I was planning RVD TV for the first time, wanting to get away from the WWE version of RVD, who you might catch singing "You are the wind beneath my ring" to Steve Austin, alongside with the rest of the Alliance, while pretending I look up to him as a leader. I remember hating the backstage skit when Kane poured gasoline on me and tried to light me on fire. That was the night Bruce Prichard told me that my acting was the shits. I never believed the shit they wanted me to say. I never got behind it. I did not enjoy being the man of two words- shall I say them? "Whatever", and "cool". There you go. That's what happens when someone else is in control of your image-someone that has no idea who the fuck you are.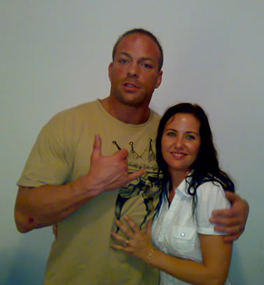 Trust me when I say this, none of those suits in the office can even imagine me going up on stage and doing comedy, let alone starring in my own movie. They don't know the real me, as seen on RVD TV. Friends who have seen the comedy episode say watching it is just like hanging out with me. I'm the real deal. What you see is what you get.
Way back when I had my knee surgery, and then time off from the ring, I was signing autographs in England at a convention that also featured Matt Hardy. We were both approached by a guy named Andrew Wright, who was there working on a documentary with Warrior, who was also there. Andrew wondered if Matt and/or I would be interested in doing some filming projects and he suggested to me that the camera could just follow me around,  filming me living my life. Matt was open to talking about it, which he did. I knew from the start that this was not something I was interested in. What was my life outside the ring? When I was home-which wasn't often enough — I was sleeping. Each time I left my house was harder and harder, with the dread of the stress of the next few days –  or several thousand miles – however you want to put it- giving me an undesired burn in my chest.
I was flying, driving, flying, driving and trying to balance taking care of my health with taking care of things at home-all the while, always taking time out to have my photo taken with some passionate fans that spot me at the airport and want to tell me I look tired.  Why in the hell would I want to showcase this? I didn't like my life routine. I didn't want to make anyone else suffer through it too. That's a big reason I didn't bring SVD with me to every single town. Burnt out and bordering fatigue, I continued as the professional I am, while feeling the challenge..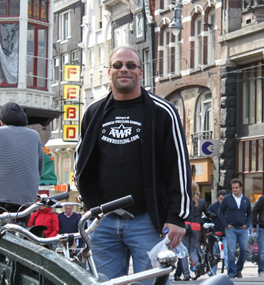 As the end of my contract approached, I remember how the littlest feedback about my individual views and perspectives would mean so much to me. I had people telling me that I inspired them to grow as people, helped their relationships and gave them a better perspective on life.  I remember thinking that if these people got that kind of energy from reading my blogs or catching a random interview somewhere, I could really deliver a well received message if I had my own outlet. I wanted to be known for being me. Hate me for who I am but don't love me for who I am not, right? You get it.   I needed to take a break from the ever consuming schedule of my job, and I needed to learn more about me. I needed to ponder questions about life, and refocus my energies toward advancing the quality of time on Earth and, as it turns out,  helping others to do the same.
I had a bunch of ideas for an episodic project I called RVD TV. I started developing it with Andrew, who was already working with Matt. The first few episodes were filmed by Andrew and edited by his partner Michael Spatola.
After many, many changes and improvements, and me taking over completely, RVD TV is nearing it's 100th episode. A new episode a week sounded like a challenge at first, and sometimes proved to be, but it was just right. Sometimes I shoot my regular life at home, working out in my gym or showing off on the diving board. Sometimes it gets me out of the house, to a movie premiere or to Venice Beach. I had my camera on during all the stages of production of Wrong Side of Town. I always take the camera on my over seas wrestling tours. There is a LOT of content there and I 'll keep adding to it.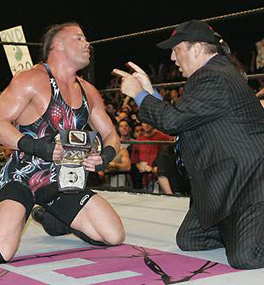 Until this week, RVD TV was available through a paid membership, so most of you have only seen the 2 or 3 minute videos on YouTube, or maybe you've seen the DVD. The production costs have been covered by the members, and will soon be covered by advertisers. In the mean time, it's on me.
If you're a wrestling fan, check out the following personalities who've contributed to RVD TV:
Batista, Eric Bischoff, Charmelle, Rene Dupree, Mick Foley, Godfather, Brett Hart, John Heidenreich, Christy Hemme, Scotty 2 Hotty, Hurricane Helms, Samoa Joe, Kid Kash, Honkey Tonk Man, Kid Kash, Chris Masters, Justin Mccully, Joey Mercury, Trevor Murdoch, Rey Mysterio, Jim Neidhart, Chris Nowinski, Harley Race, Raven, Sabu, Sean Staziak, Booker T, Warrior, Doctor Death Steve Williams, X-Pac to name a few, and of course there's the wrestlers from Ireland, Portugal, Japan, fuck-I don't know. I told you we have almost 100 episodes, didn't I?
The episodes are full of larger-than-life celebrities with no scripts, no contrived story lines and no added drama. Wrestlers, actors, comedians, musical artists, extreme athletes and more…
all regular people.
There is no catch. You don't need a credit card. Go to www.robvandam.com as often as you'd like and try to click on those ads while you're there to help us boost our numbers. I want to blow my web site up!
If you want some episode recommendations to start with:
I edited the last three episodes myself, so keep that in mind while you're checking out #88-Vandamsterdam, #87- X-Pac Games and #86-Telling Lies and then go to the Rob Van Dam room in the forum and post me your feedback. If you want to see the world, I suggest #70-Tour de France, #42- Mission in Tokyo or #38-Portugal. Want to check out some workouts? Go to episodes # 80 5 Star Arms, #39 5 Star Squats or maybe episode #49 if you want a see a wrestling workout with UFC fighter Justin McCully.
I think RVD TV is fine for kids of all ages as long as they realize that adults use adult language.
Am I a good role model?
I'll let you decide.
Get to know me at www.robvandam.com

SPECIAL VIDEO PREVIEW OF RVD TV IN AMSTERDAM!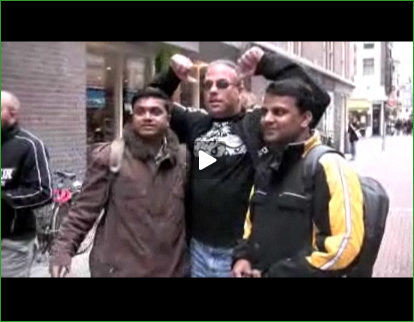 POINT YOUR THUMBS UP AND CLICK ON THE VIDEO. RVD! RVD! RVD!
---
OUR TRAINED MONKEYS WORK DAY AND NIGHT (AFTERNOONS OFF)
TO FIND THE 15 BEST STORIES ON THE WEB JUST FOR YOU. SHOW SOME APPRECIATION FOR OUR SIMIAN EMPLOYEES. CLICK ON A PIC AND ENJOY!