Rob Van Dam: "Vince McMahon Ripped My Heart Out!"
In a phenomenal interview posted by HEYMAN HUSTLE kimosabe Simon Rothstein of THE SUN (UK), Rob Van Dam has opened up a can of whoop ass cracked a bottle of bong water over the head of Vincent Kennedy McMahon and the WWE Chairman of the Board's viewpoint and decision making in regards to the relaunched ECW brand.
In the exclusive interview, Van Dam tells Rothstein:
When I first came up with the idea of One Night Stand, I never really thought about it being more than a single special night. But since it was such a success they were talking about doing part two and then creating a third brand, ECW, to continue the momentum. I first thought there was no way it was going to work. A lot of the original ECW wrestlers didn't wrestle anymore, were in horrible shape and some of them were dead.  Besides, the WWE introduced the ECW wrestlers that were left as heels. As if we didn't have enough problems swimming upstream they wanted me, Balls, Dreamer, Sandman and Sabu to do stupid stupid s*** like come out and attack John Cena.  They wanted to turn the fans against us, learn to hate us and then give us our own show! But it was Paul Heyman who said: "What if we get the original players who can still wrestle and we recruit new young talent who could adapt to the Extreme style like Matt Striker."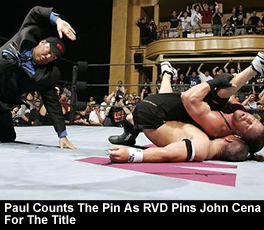 I knew that Paul was great at making superstars out of wrestlers who are otherwise overlooked, capitalising on their strengths and hiding their weaknesses. If he likes somebody it means they have talent, whether WWE sees it or not.  At that point I thought if this was going to be anything goes — as WWE said it would be — and an Extreme alternative to Raw and Smackdown then it could be really cool and the preferred show for a lot of likeminded fans. So I was really excited and got fully behind it.
RVD also offers:
It was funny, because in that period there were so many times Dreamer, Sandman, Sabu and myself would say: "OK, now ECW is really done." One of the biggest moments we thought that was at Dismember to Dismember. They beat RVD on that show because they knew I stood for that Extreme style and fought for it. They wanted to squash that whole idea and make Bobby Lashley the new face of ECW.  That was a changeover moment where we all agreed: "If we thought ECW was dead before, then f*** that, it is definitely dead now."
There really is so much more to the captivating interview. This is a huge coup for the Sun, and an in-depth look into the heart of a former main eventer who is being pursued by both WWE and TNA right now.
CLICK HERE TO READ THE ENTIRE EXCLUSIVE STORY AND INTERVIEW WITH ROB VAN DAM!

CLICK HERE FOR MORE INFORMATION ON ROB VAN DAM AND RVD-TV!

---
IN HONOR OF VETERANS DAY, WE HEREBY DECLARE THAT WE WILL PUT
OUR TROOP OF HIGHLY TRAINED SPECIAL-OP MONKEYS IN FRONT OF A
FIRING SQUAD IF YOU DON'T LIKE THEIR CHOICES BELOW FOR THE 15
BEST STORIES ON THE WEB. SO, YOU BE THE JUDGE. PICK A PIC AND CLICK!