Can Any Viral Stunt Show Top This?
Roman Atwood is at it again. The YouTube viral prankster sensation has broken the Internet (yeah yeah yeah, we're sick of that term, too … but this dude has seriously blown shit up!) with one of his insanely original pranks, this time bringing Grandma in on the action!

Atwood, known for his outrageous prank videos also likes to take time to enjoy the simple things in life, encouraging his viewers to SMILE MORE. And how can you not while watching his family friendly, edgy prank videos involving family, love and in this case AN F'N CAR BOMB!!!

We're not kidding. Not even exaggerating nor embellishing. Dude blows up a car!
And Atwood doesn't just blow up any car, he blows up his grandmother's vehicle in what has to be one of the most explosive (pun intended) pranks ever uploaded on YouTube! In the video, Atwood explains to his grandmother that she's going to be talking to reality show cameras as an excuse to get the 78 year old away from her car long enough to pull off the prank. After her interview concludes, we see Grandma join Atwood on the back porch where he explains to her that a group of friends plan to shoot their guns into the general direction of her car without actually hitting it with a bullet.
CLICK HERE TO FOLLOW ROMAN ATWOOD ON TWITTER!

CLICK HERE TO SUBSCRIBE TO ROMAN ATWOOD'S AMAZING YOUTUBE CHANNEL!
If you haven't said "oy vey" yet, hang on … you will!

If you watch QVC as much as I do (hey we all have guilty pleasures), you KNOW there's always a catch. The car has been switched with a replica and Grandma watches as the bullets fly and her car explodes before her very eyes, with nothing more to do but cry, blame Roman and worry how she's going to repair the damages!

And it only gets better from there …

Of course, we're HustleTweeting about Roman Atwood, and you're more than welcome to join the conversation by following The Heyman Hustle on Twitter HERE! You can also post your thoughts on our Facebook page HERE! If you feel compelled to write us, please do so at HustleOnCrave (at) Gmail.com
BTW, we are kicking ass with our YouTube Channel which features such amazing videos as BRUTAL WWE MOVES: THE REVENGE … #HustleBootyTempTats SUPER MODEL OF THE YEAR ELLIE GONSALVES … BEHIND THE SCENES with BROCK LESNAR … MISSY HYATT's SEX CONFESSIONS … and never to be outdone, COCO DISCUSSES "THE STROKE!"

We are, indeed, on MySpace but we've neglected our account for years … and if you're looking for our Friendster account, GFY!

ROMAN ATWOOD BLOWS UP GRANDMA'S CAR!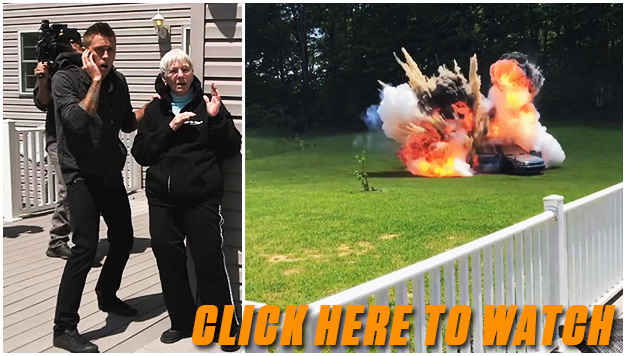 WE HERE AT THE HEYMAN HUSTLE HAVE ENSLAVED HIGHLY TRAINED
MONKEYS TO IGNORE THE FACT THEY ARE OVERWORKED AND UNDERPAID,
ALL IN THE NAME OF SCOURING THE WORLD WIDE WEB TO FIND THE FIFTEEN
MOST PROVOCATIVE STORIES ON THE INTERNET. ALL FOR YOU. NO ONE ELSE
BUT YOU. JUST YOU. AND ALL YOU NEED TO DO IS PICK WHICH PIC TO CLICK!