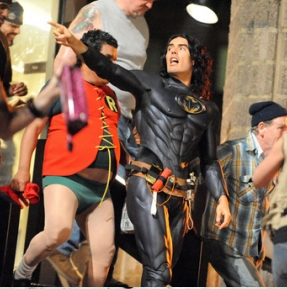 Russell Brand Films A Classic Remake (And The Remake Of A Classic) On The Streets of NYC!
Embedded deep inside the Jason Winer-directed movie starring Russell Brand as Arthur, the drunk who must get married to inherit a fortune (played to the hilt by Dudley Moore), Helen Mirren (taking on the role made famous by Sir John Geilgud), and Jennifer Garner (replacing Liza, dahling, replacing Lyyy-za!), this is as inside as it gets.

The last time anyone had this 360 level of access was when our own HUSTLER DE TUTI HUSTLERS PAUL HEYMAN WAS EMBEDDED DEEP INSIDE BROCK LESNAR'S CAMP THE WEEK OF UFC 116 HERE

The movie is shooting at an alarming fast pace, with Brand and sidekick Luis Guzman cracking up crew and spectators alike all over Manhattan.

We're HustleTweeting about the ongoing production, and you're more than welcome to join the conversation. Don't miss out, let your voice be heard! Follow the Hustle on Twitter HERE!
CLICK ON THE PHOTOS BELOW FOR THE ENTIRE GALLERY
OF RUSSELL BRAND BEHIND THE SCENES ON THE SET OF "ARTHUR"

THE HEYMAN HUSTLE'S VERY OWN TRAINED MONKEYS ARE PROUD
TO PRESENT THE TOP 15 STORIES OF THE DAY, ALL CONVENIENTLY
LINKED HERE FOR YOUR REVIEW. NO NEED TO SURF THE WEB, WE
DID ALL THE HARD WORK FOR YOU. JUST PICK A PIC AND CLICK!