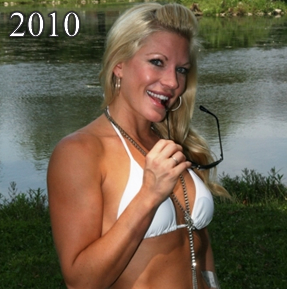 The Former WWE Diva Is Photographed Exclusively By Hustle Photographer Bob Mulrenin!
Alicia Webb's time in professional wrestling was short, but the leggy blonde from Houston, Texas made quite the impact in 1999 as "Ryan Shamrock" in the then-WWF. Whether it was her skits with Val Venis or her time in PMS with Terri Runnels and Jacqueline, Shamrock was a leggy alternative to the surgically-enhanced Divas dominating the company now known as WWE.

Webb later became "Symphony" in WCW, working with The Maestro, and was part of the early days for TNA as "Aleesha." She even worked as recently as May, 2007 in Mexico, with her then-boyfriend Sean "X-Pac" Waltman.

THE HEYMAN HUSTLE's photographer Bob Mulrenin caught up with the 31 year old beauty in Pennsylvania at a fitness convention, and snapped these exclusive photos. "I can't tell you she's eyeing a comeback in the wrestling business," Bob said, "but she was in great spirits, and interacted well with everyone she met. A real class act!
CLICK ON THE PICS BELOW TO SEE THE ENTIRE EXCLUSIVE
PHOTO GALLERY OF ALICIA WEBB AKA RYAN SHAMROCK 2010!

THE HEYMAN HUSTLE'S VERY OWN TRAINED MONKEYS ARE PROUD
TO PRESENT THE TOP 15 STORIES OF THE DAY, ALL CONVENIENTLY
LINKED HERE FOR YOUR REVIEW. NO NEED TO SURF THE WEB, WE
DID ALL THE HARD WORK FOR YOU. JUST PICK A PIC AND CLICK!