He Sliced Up Sabu and Shut Down The ECW Arena. Sami Callihan's Work Has Just Begun!
Waiting on hold for our own Hustler De Tuti Hustlers Paul Heyman can be a bitch. The man juggles more cell phone calls in a day than we would dare attach a number to, since you'll accuse of embellishing that number because of the sheer volume of calls he alternates between.
Gabe Sapolsky is no stranger to this phenomenon. "I think I've spent half my entire career on the phone with Paul, and half of that has been on hold!" the booking prodigy joked this afternoon during a conversation with me which was necessitated because (you guessed it) he was on hold for Paul here at the Looking4Larry Agency offices.
But even while waiting for Paul to pick up the call, Gabe couldn't stop raving about his next breakout star, Sami Callihan. The man who gave CM PUNK and Samoa Joe their first true heavy pushes in the pro wrestling business is sold on Sami Callihan being the next Sapolsky-discovered talent to become a global star.
"He's putting all the pieces together so brilliantly, and he's really jumping on this opportunity," Sapolsky commented. "Sami Callihan will go down as the man who shut down the THE FINAL SHOW AT THE ECW ARENA and he has capitalized on that opportunity since the moment he stood in the ring and scolded the fans after beating up Sabu!"
I have to admit, Gabe's enthusiasm got me curious. I checked out Sami's brand new interview. And I have to admit, Sami Callihan is ready for superstardom. Of course, I'd love to hear or read Paul's opinion on Sami, but this video should speak for itself.
Oh, yeah. The reason Gabe was calling? DragonGate just announced a huge main event for WrestleMania weekend. Sami Callihan vs Sabu, No Rules Fight at the Deauville Beach Resort in Miami Beach, Florida, which will air live on iPPV on March 31st. Details available at DGUSA.TV and WWNLive.com
And just for the sake of history, we've included 90 EXCLUSIVE photos by award-winning photographer George Tahinos of the final match at the ECW Arena, Sabu vs Justin Credible, with the entire incident that took place afterwards. An incident, it appears, that has served as the launching pad for wrestling's next great breakout star from the independents, Sami Callihan!
Of course, we're HustleTweeting about Sami Callihan, and you're more than welcome to join the conversation by following THE HEYMAN HUSTLE on Twitter HERE or write to us directly at hustleoncrave@gmail.com Hey, have you checked out the Hustle's Ultra High Quality You Tube Channel, with exclusive videos featuring BROCK LESNAR'S "HERE COMES THE PAIN" … ICE-T AND COCO's SEX SECRETS … THE ULTIMATE WELTERWEIGHT BAD ASS NICK DIAZ … CONTROVERSIAL TEEN SENSATION TAYLOR MOMSEN … LEGENDARY MMA PIONEER FRANK SHAMROCK … THE WALKING RIOT MISSY HYATT … if you're not subscribing, you're missing something … and by the ways cheapos, it's FREE! Yes, absolutely 100 percent FREE! What are you waiting for? Check it out HERE!
By the way, we're also old school social networkers, so check out our interactive skills on Facebook HERE and even on MySpace HERE. If you're on Friendster, GFY … and have a pleasant tomorrow!
annel HERE, and don't forget to check out our old school social networking skills by visiting us on Facebook HERE and even on MySpace HERE
CLICK ON THE PICS BELOW TO SEE AWARD-WINNING GEORGE TAHINOS'
EPIC PHOTO ESSAY ON THE FINAL MATCH EVER AT THE ECW ARENA …
AND THE INCIDENT AFTERWARDS THAT HAS MADE SAMI CALLIHAN A STAR!

CHECK OUT SAMI CALLIHAN'S LATEST VIDEO!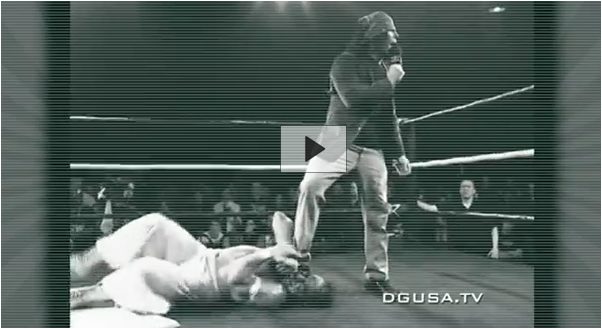 IT'S TIME FOR AN ALL NEW EDITION OF THE HOLLYWOOD CHARLIE
MEDIA WATCH, OUR DAILY TRAVEL ACROSS THE WORLD WIDE WEB.
OUR HIGHLY TRAINED MONKEYS HAVE PICKED OUT THE 15 WILDEST
STORIES FROM THE INTERNET FOR YOUR ASTUTE REVIEW. YOUR PART
IS VERY EASY. ALL YOU NEED TO DO IS PICK A PIC … AND CLICK!