What was it like to work with Dean Ambrose before he exploded on the WWE at Survivor Series? The man who gave Ambrose his very first big break discusses the early years of WWE's newest superstar!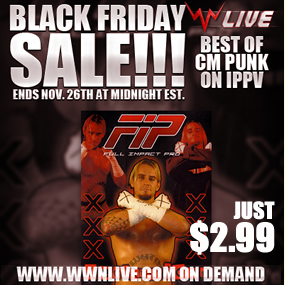 What was it like to work with Dean Ambrose before he exploded on the WWE at Survivor Series? The man who gave Ambrose his very first big break discusses the early years of WWE's newest superstar!
I'll never forget the very first moment I worked with the man now known as Dean Ambrose. There was only one other time I experienced anything like it in my 10 year booking career and that was with Paul Heyman's current top hustler, CM Punk.
We were fortunate to have Ambrose, then known as Jon Moxley, as a building block of my Dragon Gate USA and EVOLVE promotions for almost two years. I have to admit, I was in love with him as a talent and fascinated by him as a person. We had an instant creative chemistry. It paid off with Ambrose leading Kamikaze USA of Dragon Gate standouts YAMATO, Akira Tozawa and Shingo as well as being in a violent feud against Jimmy Jacobs. The bloodbath I Quit Match against Jacobs at DGUSA Bushido: Code Of The Warrior 2010 is an ageless classic.
It all began in a back room of a small building in the out-of-the-way town of Brooksville, Florida.
My business partner Sal Hamaoui and I were set to launch EVOLVE wrestling in January of 2010. Hamaoui runs the Jeff Peterson Memorial Cup Tournament every year in Florida. We decided to use the 2008 edition as an unofficial "tryout" for EVOLVE. I watch a lot of footage, but I truly believe you can't get to know a talent until you work with them, see what drives them and are able to figure out what type of person they are. The Peterson Cup gave us the forum to get to know the new talents we were moving forward with in EVOLVE and DGUSA. We had high hopes for Ambrose, but I had yet to even have a real conversation with him.
I eagerly awaited for Ambrose to arrive at the armory for the Peterson Cup. I wanted to see what he was all about face-to-face. Shortly after he arrived, I immediately seized the opportunity to work with him for the first time. I wasn't sure what we had on our hands, but I was about to find out.
"Come on," I said to Ambrose before he had time to prepare for anything, "time to cut a promo."
We scurried into a back room, I think a janitor's closet actually. He asked if there were any bullet points. I purposely told him to just run with whatever he thought the people should know about him. He then cut an amazing, unique and distinctive promo that floored me.
When he was done my gut instincts were screaming, "PUT THIS GUY IN SOMETHING NOW!"
I didn't even care if he could wrestle. His charisma, poise and presence was one-in-a-million. The only other time I was sold on a talent before seeing how well he could wrestle was CM Punk, who dazzled me by showing a command of the audience during a simple ring entrance. Fortunately, both Punk and Ambrose are equally great talents in the ring.
As soon as the camera stopped rolling, I eagerly asked Ambrose if he could be in Philadelphia the next week for the Dragon Gate USA. Keep in mind we had the card completely booked up, all the storylines were written and we had exhausted out budget. However, Ambrose was special and we had to start him as soon as possible.
He jumped at the opportunity and said "yes," even though it was just seven days notice. He said he'd make the 12 hour drive by himself and be there for whatever we had planned. No hassles, no drama. He was going to be there. He had the self-confidence to know he just had to be given the smallest opportunity and he would "grab it by the balls" and make it work. He wasn't going to let a long car ride or low pay stop him. He was going to make his future.
We ended up having a tremendous run with Ambrose in both DGUSA and EVOLVE. He created some special promos and moments. I am very fortunate to have seen him put on several tremendous matches. I'll never forget the night he and Daniel Bryan (then known as Bryan Danielson) put on a vicious fight in an intimate theater in Milwaukee at DGUSA Way Of The Ronin 2010 or his farewell independent wrestling match at EVOLVE 7 against Austin Aries in New York City.
Now WWE is giving him a big opportunity. He started by attacking WWE's hottest new babyface, Ryback, in the main event of the Survivor Series pay per view. I'm sure he's about to take the whole WWE universe and "grab it by the balls."

=================

Gabe Sapolsky's thoughts on Seth Rollins (and a backstage altercation with neighborhood locals that earned him a push in Ring of Honor) will be posted EXCLUSIVELY in his next blog here on the Hustle. Dean Ambrose (Jon Moxley)'s best independent wrestling matches with Dragon Gate USA and EVOLVE at a great discount as part of the Black Friday sales. All DGUSA DVDs are 50% off and all EVOLVE DVDs are 33% off at www.DGUSA.tv until Nov. 26th at midnight EST. All iPPVs at www.WWNLive.com On Demand featuring Ambrose / Moxley are just $7.99 (almost 50% off) for the entire holiday season.

Want a free sample of the kick ass action only found in DGUSA and EVOLVE? CLICK HERE FOR A SAMPLE THAT WILL ROCK YOUR UNIVERSE!
Who is the next Dean Ambrose? Check out EVOLVE 18: Gargano vs. Callihan on December 8th in Voorhees, New Jersey (just outside Philadelphia). Be there by getting tickets at www.DGUSA.tv or watch on live iPPV at www.WWNLive.com. Pre-order the live iPPV by Monday at midnight EST and get a discount.

WE HERE AT THE HEYMAN HUSTLE HAVE ENSLAVED HIGHLY TRAINED
MONKEYS TO IGNORE THE FACT THEY ARE OVERWORKED AND UNDERPAID,
ALL IN THE NAME OF SCOURING THE WORLD WIDE WEB TO FIND THE FIFTEEN
MOST PROVOCATIVE STORIES ON THE INTERNET. ALL FOR YOU. NO ONE ELSE
BUT YOU. JUST YOU. AND ALL YOU NEED TO DO IS PICK WHICH PIC TO CLICK!