Tom Hardy May Have Replaced Mel Gibson, But George Miller's Latest Installment of the Mad Max Saga Stars Charlize Theron as Imperator Furiosa!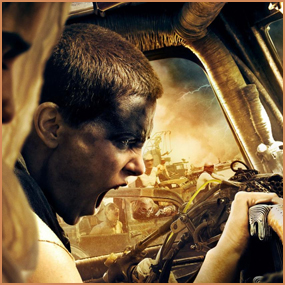 Tom Hardy May Have Replaced Mel Gibson, But George Miller's Latest Installment of the Mad Max Saga Stars Charlize Theron as Imperator Furiosa!
THE HEYMAN HUSTLE was on hand as Sean Penn accompanied Charlize Theron to the world premiere of MAD MAX: FURY ROAD, director George Miller's first Road Warrior movie in three decades. The reviews, by the way, are in, and while everyone is raving about the film, the one thing that stands out more than anything is that Tom Hardy's replacement of Mel Gibson takes a back seat to Charlize's portrayal of Imperator Furiosa, a smart, fearsome, one-armed rogue soldier bent on smuggling five women to freedom inside a gasoline truck with Max's initially reluctant help. Miller's old-school post-apocalyptic vision dazzles the eye and engages the mind in ways that practically no contemporary blockbusters do.The dialogue is sparing, it works as a stand-alone story (you don't need to catch up on the three Gibson films. though if you do … pass on the 3rd, check out the 1st, marvel about the 2nd) and isn't busy setting up a sequel. In short, it's a blessed deliverance from the tiresome universe-building, sanitized violence and rampant sexism of, say, the bloated Marvel epics. Sorry Marvel fans. But that's a true statement about the new Mad Max movie as well as an indictment of the Marvel dribble that has been put out lately.

The women, some of them pregnant, are fleeing Immortan Joe (Hugh Keays-Byrne, who was the Toecutter in the 1st Max movie), who brutally rules a desert city called the Citadel and had imprisoned his five "wives" so he could force one of them to bear him a male heir. Joe leads a convoy of tricked-out vehicles with gonzo warriors to recover his "property" … with Max spending much of the first half-hour in an iron mask, serving literally as a human hood ornament (and blood donor) for Nux (Nicholas Hoult), arguably the nuttiest member of Joe's army. Max eventually joins forces with Furiosa and provides some key advice, but with Theron's steely gaze, stoic determination and action chops, she's very much the one calling the shots for this badly outnumbered band.

Of course, we're HustleTweeting about MAD MAX: FURY ROAD, and you're more than welcome to join the conversation by following The Heyman Hustle on Twitter HERE! You can also post your thoughts on our Facebook page HERE! If you feel compelled to write us, please do so at HustleOnCrave (at) Gmail.com
BTW, we are kicking ass with our YouTube Channel which features such amazing videos as BRUTAL WWE MOVES: THE REVENGE … #HustleBootyTempTats SUPER MODEL OF THE YEAR ELLIE GONSALVES … BEHIND THE SCENES with BROCK LESNAR … MISSY HYATT's SEX CONFESSIONS … and never to be outdone, COCO DISCUSSES "THE STROKE!"

We are, indeed, on MySpace but we've neglected our account for years … and if you're looking for our Friendster account, GFY!

CLICK ON THE PICS BELOW TO SEE THE ENTIRE GALLERY FEATURING SEAN PENN AND CHARLIZE THERON AT THE "MAD MAX: FURY ROAD" PREMIERE!


DIRECT FROM WARNER BROS. STUDIOS … SIX EXCLUSIVE CLIPS FROM
THE WASTELAND THAT DEFINE "MAD MAX: FURY ROAD!"

WE HERE AT THE HEYMAN HUSTLE HAVE ENSLAVED HIGHLY TRAINED
MONKEYS TO IGNORE THE FACT THEY ARE OVERWORKED AND UNDERPAID,
ALL IN THE NAME OF SCOURING THE WORLD WIDE WEB TO FIND THE FIFTEEN
MOST PROVOCATIVE STORIES ON THE INTERNET. ALL FOR YOU. NO ONE ELSE
BUT YOU. JUST YOU. AND ALL YOU NEED TO DO IS PICK WHICH PIC TO CLICK!