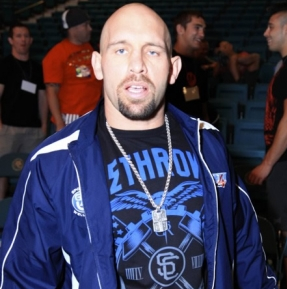 THE HEYMAN HUSTLE, continuing its unprecedented 360 coverage of UFC 116 Fight Week was granted exclusive access to Shane Carwin just minutes before his entrance onto the stage before the UFC 116 weigh-ins today at the MGM Grand Garden Arena in Las Vegas, Nevada. Carwin, who weight in at 265 pounds, later announced ON HIS TWITTER PAGE that he was "Rehydrating so far three IV's and I am up to 271 range. Eating two chickens and some pasta."
Don't miss any of our historic coverage of the biggest pay per view of 2010. Join the conversation on our Twitter page by becoming a HustleTweeter HERE, and check out all the coverage of UFC 116 HERE
CLICK ON THE PICS BELOW TO SEE THE ENTIRE EXCLUSIVE
GALLERY OF SHANE CARWIN BACKSTAGE AT THE UFC 116 WEIGH-INS!

THE HEYMAN HUSTLE'S VERY OWN TRAINED MONKEYS ARE PROUD
TO PRESENT THE TOP 15 STORIES OF THE DAY, ALL CONVENIENTLY
LINKED HERE FOR YOUR REVIEW. NO NEED TO SURF THE WEB, WE
DID ALL THE HARD WORK FOR YOU. JUST PICK A PIC AND CLICK!