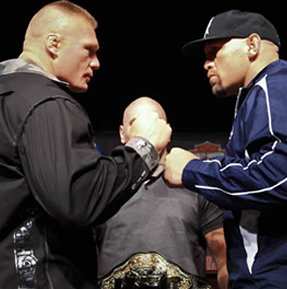 In a moment that defined Brock Lesnar's attention-stealing interview after Shane Carwin had won the UFC Interim Heavyweight Championship, the former pro wrestling champion ruined Carwin's celebration by saying "You got the wrong belt, Shane. I have the real one."
Shane Carwin couldn't agree more.

As our own Hustler De Tuti Hustlers Paul Heyman observed on our LIVE TWITTER FEED FROM THE UFC 116 PRESS CONFERFENCE, Brock had his title right in front, Carwin didn't even have a title belt with him.

When a reporter asked Carwin about the Interim Championship,and why a title belt was not front and center on his side of the table, Carwin was not the 1st to speak. Lesnar jumped in and, referring to the Interim Title belt, blurted "it's not real."

Carwin did not argue.

"When Brock said it was a fake belt. Carwin offered, "it went POOOOOF!"

Brock Lesnar and Shane Carwin will square off in what promises to be the biggest pay per view event of 2010 when they fight this Saturday night, July 3rd at the MGM Grand Garden Arena for the Undisputed UFC Heavyweight Championship of the World.
CLICK ON THE PHOTOS BELOW TO SEE THE ENTIRE GALLERY
FEATURING SHANE CARWIN AT THE UFC 116 PRESS CONFERENCE!

THE HEYMAN HUSTLE'S VERY OWN TRAINED MONKEYS ARE PROUD
TO PRESENT THE TOP 15 STORIES OF THE DAY, ALL CONVENIENTLY
LINKED HERE FOR YOUR REVIEW. NO NEED TO SURF THE WEB, WE
DID ALL THE HARD WORK FOR YOU. JUST PICK A PIC AND CLICK!