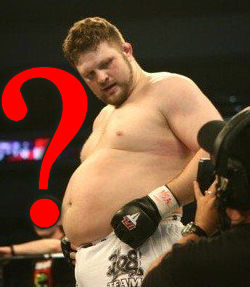 The Colorado Knockout King Looks To Get Back Into Title Contention … So Who's Gonna Bang With Carwin?
The first man to truly test the chin of Undisputed UFC Heavyweight Champion Brock Lesnar has not fought since the fateful July 3rd encounter which saw Lesnar withstand one of the most brutal ground and pound attacks in recent memory. But that all changes January 1st.

Shane Carwin is stepping back into the Octagon.

CLICK HERE FOR OUR EXCLUSIVE ON-SITE COVERAGE OF CARWIN'S EPIC BATTLE WITH BROCK LESNAR AT THE MGM GRAND IN LAS VEGAS ON JULY 3, 2010!

In a series of tweets on his TWITTER page, Carwin revealed he has signed a contract to fight at UFC 125 on January 1st, but was not at liberty to disclose the name of his opponent.

Rumors have been swirling the opponent would be fellow stand-and-swing king Roy Nelson.

However, Nelson through a potential monkey wrench into those rumors during an interview with The Las Vegas Sun today, when he stated he was in no hurry to jump into the Octagon on January 1st.

"My knee is not 100 percent yet. I'm still in physical therapy. Right now, (January) probably seems a little too soon," Big Country told the Sin City news periodical, "If Brock Lesnar loses I'd like to fight him next. My knee would be healed up by then because he likes to take a little time off between fights."

Nelson added, "Anything that puts me back in title contention is the biggest thing."

Without ever mentioning Nelson's name, Carwin tweeted "Maybe he is scared to sign."
We're HustleTweeting about Shane Carwin, and you're more than welcome to join the conversation. Follow THE HEYMAN HUSTLE on Twitter HERE or write to us at hustleoncrave@gmail.com

THE HEYMAN HUSTLE'S VERY OWN TRAINED MONKEYS ARE PROUD
TO PRESENT THE TOP 15 STORIES OF THE DAY, ALL CONVENIENTLY
LINKED HERE FOR YOUR REVIEW. NO NEED TO SURF THE WEB, WE
DID ALL THE HARD WORK FOR YOU. JUST PICK A PIC AND CLICK!