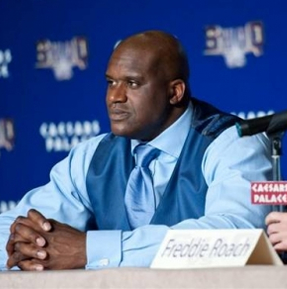 Give Credit to Shaquille O'Neal. The 7 Footer Has Proven That LeBron James Isn't The Only NBA Top Tier Player Who Knows How To Get Maximum Publicity!
Shaq, who plays (at least for now) on the LeBron-less Cleveland Cavaliers, is looking for a way to promote the 2nd season of "SHAQ VERSUS" on ABC, and the season premiere will feature the 38 year old all star against a fellow 38 year old, boxer "Sugar" Shane Mosley.

"If I lose to 'Sugar' Shane," Shaq declared with great bravado at the press conference, "I will walk through Caesars Palace in a pink bikini."

For those wondering Shaq's opinion on LeBron, he refused to answer any questions about the most controversial free agent pursuit in NBA history.

Last year, Shaq traveled to Sin City and dropped a decision to Oscar De La Hoya.
"It's an honor and a dream come true," Shaq said about the exhibition match against Mosley, "A long time ago, the great Wilt Chamberlain challenged Muhammad Ali. That fight never happened, so I'm the first professional basketball to actually have two fights against pro fighters. It's just beautiful for me."
Shaq has been taking the match with Mosley pretty seriously, and he enlisted the aid of legendary boxing trainer Freddie Roach, who trains WBO welterweight champion Manny Pacquiao. Roach also helped O'Neal train for last year's fight against De La Hoya. Let's not go there, though.
"Well last year with Oscar, I thought we won the fight," Roach said, though what else is he going to say? Roach continued, "I thought the judges were off. This year, Shaq's going to cut the ring off."
CLICK ON THE PICS BELOW
TO SEE THE ENTIRE GALLERY FROM THE PRESS CONFERENCE
FEATURING SHAQ, FREDDIE ROACH, AND SHANE MOSLEY!

THE HEYMAN HUSTLE'S VERY OWN TRAINED MONKEYS ARE PROUD
TO PRESENT THE TOP 15 STORIES OF THE DAY, ALL CONVENIENTLY
LINKED HERE FOR YOUR REVIEW. NO NEED TO SURF THE WEB, WE
DID ALL THE HARD WORK FOR YOU. JUST PICK A PIC AND CLICK!