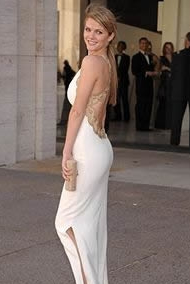 She's the most talked about woman on the planet, at least for today. Tennis ace Andy Roddick's uber-hot wife, Brooklyn Decker (Yo! Brooklyn In Da House!) is the cover girl for the 2010 edition of the risque Sports Illustrated Swimsuit Edition.
CLICK HERE TO SEE THE ENTIRE GALLERY OF BROOKLYN DECKER'S SENSATIONAL PHOTOGRAPHS FOR THE 2010 SPORTS ILLUSTRATED SWIMSUIT EDITION!

Give credit to SI, they are promoting this everywhere. A full fledged campaign, which we covered exclusively several weeks ago (Check out HOTTIES WITH BARCODES!) has been launched, and as soon as Brooklyn revealed the cover on The Late Show with David Letterman, the publicity tour was on!

CLICK HERE FOR OUR HOT PHOTO GALLERY OF BROOKLYN DECKER PROMOTING THE SPORTS ILLUSTRATED COVER AT A GALA GATHERING IN NEW YORK CITY!

Of course, you Hustlers know Brooklyn made a cameo appearance on THE HEYMAN HUSTLE's infamous episode with Taylor Momsen, Harvey Fierstein, Donald Trump, and many others. We have EXCLUSIVE NEVER-BEFORE-SEEN OUT TAKE PHOTOS FROM BROOKLYN'S HUSTLE APPEARANCE, but that's not all. We also have, just for you, THE COMPLETE HEYMAN HUSTLE EPISODE WITH BROOKLYN'S CAMEO APPEARANCE, all cued up and ready for your review!
TO SEE THESE NEVER-BEFORE-SEEN
OUT TAKE PHOTOS FROM BROOKLYN DECKER'S
CAMEO ON THE HEYMAN HUSTLE, CLICK ON THE PICS BELOW!
---
COMING TO YOU LIVE FROM THE NEW YORK
BLIZZARD OF TWENTY TEN, IT'S THE SNOWBOUND
MEDIA WATCH, PRESENTED IN VIBRANT HUSTLEVISION
EXCLUSIVELY FOR THOSE WHO WANT TO PICK A PIC AND CLICK!