THE HEYMAN HUSTLE's Very Own Skirt Chasing Pop Culture Beat Reporter Reviews The Most Eagerly Anticipated James Bond Film of Our Generation!
This year marks the 50th Anniversary of Bond … James Bond. And damn, the 143 minute "Skyfall" addition to the 007 Collection has upgraded the film franchise to new heights.
Hustlers, this movie F'N rocks!
In addition to the spectacular action scenes, "Skyfall" takes its time, and delves deep into the tormented minds of Bond (Daniel Craig), M (Judi Dench) and the fantastic new villain played by Javier Bardem of "No Country For Old Men." As our very own Hustler De Tuti Hustlers Paul Heyman might lecture, "this isn't a movie. It's a film!"
The Daniel Craig Era of 007 got kicked off with "Casino Royale," and then went somewhat out of the Bond genre with 'Quantum of Solace." Bond is not a goodie two shoes. He's a bad dude. And in this movie, he's the British agency's assassin with a license to kill. "Skyfall" also presents Bond, at least during the first part of the film, as gaunt and haunted.
If you watch the trailer (yup, WE HAVE IT RIGHT HERE FOR YOU!),you already know Bond takes a long fall off a high bridge after getting shot off the top of a speeding train by a fellow MI6 agent (played by Naomie Harris). Deciding to leave it all behind, Bond indulges in drinking games involving scorpions and whiskey, sex involving women hot enough to make me forget about the scorpions and whiskey, but then pulls himself out of his downward spiral after MI6 falls victim to an explosive cyber-terror attack.
"Reporting for duty," Bond grunts from the shadows to a startled M (Judi Dench). Once again damn near stealing the entire film, Dench then demands, "Where the hell have you been?"
As this is the most substantive Bond yet, what follows is a deep dive into the psyches and backgrounds of 007, M and also Silva, the villain played masterfully by Bardem, who is a real piece of work.
Still best known for his portrayal of Anton Chigurh, Bardem presents perhaps the best Bond villain ever in "Skyfall." He really is that good, and his character is presented in a manner that is that deep.
From the moment Bardem emerges from an elevator and begins a long, deliberate walk toward a bound Bond, delivering a mocking, silken-toned soliloquy about ravenous rats and retribution, he is the essence of focused, patient, all-knowing evil. A super-cyber-hacker and a remorseless student of psychology, he has special insights into the weaknesses of Bond and M. In insinuating tones, he seeks to exploit and demoralize them both.
This is a very dark movie, set in tunnels and spooky-mansion rooms and the chilly, misty valleys of Scotland. The settings, carefully chosen by director Sam Mendes (who directed one of my favorite Kevin Spacey movies, "American Beauty"), reflect the dark corners of the main characters' psyches. The movie goes two and a half hours. I loved The Dark Knight. I kind of liked the Bane-heavy "The Dark Knight Rises." And I loved "Skyfall."
And more importantly, I bet you will, too.
Of course, we're HustleTweeting about "Skyfall," and you're more than welcome to join the conversation by following THE HEYMAN HUSTLE on Twitter HERE or write to us directly at hustleoncrave@gmail.com Hey, have you checked out the Hustle's Ultra High Quality You Tube Channel, with exclusive videos featuring OUR WORLD EXCLUSIVE WITH MIKE TYSON … BROCK LESNAR'S "HERE COMES THE PAIN" … ICE-T AND COCO's SEX SECRETS … TEEN SENSATION TAYLOR MOMSEN … UFC BAD BOY NICK DIAZ … THE WALKING RIOT MISSY HYATT if you're not subscribing, you're missing something … and by the ways cheapos, it's FREE! Yes, absolutely 100 percent FREE! What are you waiting for? Check it out HERE!
By the way, we're also old school social networkers, so check out our interactive skills on Facebook HERE and even on MySpace HERE. If you're on Friendster, GFY … and have a pleasant tomorrow!
YOU DON'T NEED TO CRACK ANY CODE TO CHECK OUT THIS AWESOME
TRAILER FOR THE BEST 007 FILM OF ALL TIME, "SKYFALL!"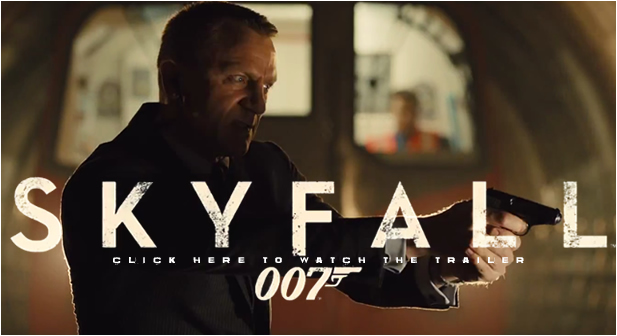 WE HERE AT THE HEYMAN HUSTLE HAVE ENSLAVED HIGHLY TRAINED
MONKEYS TO IGNORE THE FACT THEY ARE OVERWORKED AND UNDERPAID,
ALL IN THE NAME OF SCOURING THE WORLD WIDE WEB TO FIND THE FIFTEEN
MOST PROVOCATIVE STORIES ON THE INTERNET. ALL FOR YOU. NO ONE ELSE
BUT YOU. JUST YOU. AND ALL YOU NEED TO DO IS PICK WHICH PIC TO CLICK!