The Biggest Pay Per View Event of the Year Continues To Get Bigger and Bigger!
Spike TV will air the official UFC 116 weigh-ins this Friday night live from the MGM Grand Garden Arena in Las Vegas starting at 7pm Eastern/4pm Pacific time.

CLICK HERE TO READ PAUL HEYMAN'S BRAND NEW EXCLUSIVE BLOG CALLING BROCK LESNAR A "CARWIN EATING CARNIVORE!'

CLICK HERE TO SEE AN AWESOME VIDEO OF BROCK LESNAR TRAINING WITH THE MAN HE BEAT FOR THE UFC HEAVYWEIGHT CHAMPIONSHIP, RANDY COUTURE!

Spike had already announced the primary cable home of the Ultimate Fighting Championships would be airing a 2 hour special entitled "UFC Prelims" prior to the pay per view broadcast this Saturday night. Now that's a prime example of a network working hand-in-hand with a promotion to ensure maximum momentum going into the actual PPV event.

Spike also confirmed today a Light Heavyweight contest between Seth Petruzelli and Ricardo Romeo will now be seen on the 2 hour special.

Spike had originally planned only a one hour special, which would see the Heavyweight fight of Brendan Schaub vs. Chris Tuchscherer, and a Middleweight contest featuring Kendall Grove vs. Goran Reljic.

Grove then caused an uproar by bad mouthing Spike TV, and was pulled from the special.
As of this posting, here is the official lineup for UFC 116:

Live on Pay Per View:

For The UFC Undisputed Heavyweight Championship of the World
UFC Champion Brock Lesnar vs Interim Champion Shane Carwin

Yoshihiro Akiyama vs Chris Leben

Matt Brown vs Chris Lytle

Stephan Bonner vs Krzysztof Soszynski

Kurt Pellegrino vs. George Sotiropoulos

UFC Prelims, Live on Spike TV:

Chris Tuchscherer vs Brendan Schaub

Seth Petruzelli vs. Ricardo Romero

Preliminary Matches Not Scheduled For Air:

Kendall Grove vs. Goran Reljic

Dave Branch vs. Gerald Harris

Forrest Petz vs. Daniel Roberts

Jon Madsen vs. Karlos Vemola

We're HustleTweeting about UFC 116, and you're more than welcome to join the conversation. Don't miss out,follow THE HEYMAN HUSTLE on Twitter HERE

CLICK ON THE VIDEO BELOW FOR A SPECIAL PREVIEW
OF BROCK LESNAR VS SHANE CARWIN AT UFC 116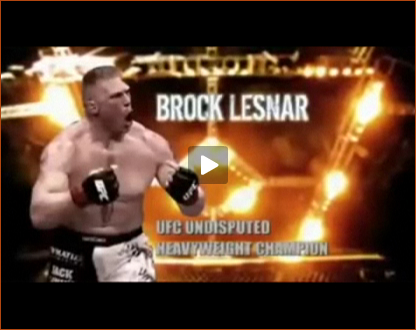 THE HEYMAN HUSTLE'S VERY OWN TRAINED MONKEYS ARE PROUD
TO PRESENT THE TOP 15 STORIES OF THE DAY, ALL CONVENIENTLY
LINKED HERE FOR YOUR REVIEW. NO NEED TO SURF THE WEB, WE
DID ALL THE HARD WORK FOR YOU. JUST PICK A PIC AND CLICK!