The Most Impactful Raw Superstar Ever and The Most Popular UFC Champion of All Time Join Forces as Their New Flick is Screened In Front of Military Personnel!
"Stone Cold" Steve Austin and Randy "The Natural" Couture joined Sylvester Stallone and Terry Crews for a most memorable affair as Camp Pendleton hosted a unique media event during ComicCon weekend. Stallone, Austin, Couture, and Crews watched as the men in uniform reacted to the shoot 'em up thriller "The Expendables," which also stars BRUCE WILLIS and the Governator himself, Ah-nold! "Just thrilled to be here," Austin told a group of fighting men, "I'm getting a real kick out of this!"
We're HustleTweeting about Stallone, Austin, Couture, and Crews' visit to the military base, and we'd love for you to join the conversation HERE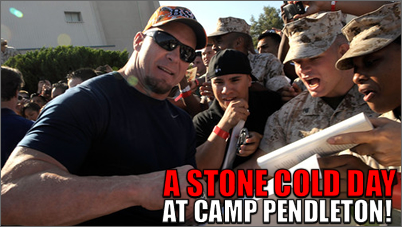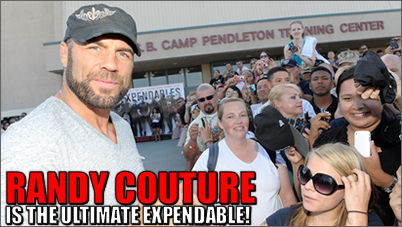 THE HEYMAN HUSTLE'S VERY OWN TRAINED MONKEYS ARE PROUD
TO PRESENT THE TOP 15 STORIES OF THE DAY, ALL CONVENIENTLY
LINKED HERE FOR YOUR REVIEW. NO NEED TO SURF THE WEB, WE
DID ALL THE HARD WORK FOR YOU. JUST PICK A PIC AND CLICK!