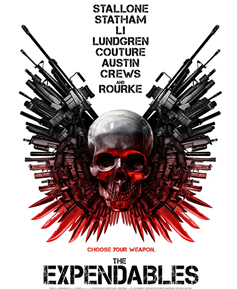 The Heyman Hustle Presents Live Coverage Of The Summer's Biggest Action-Adventure Premiere!
Steve ("No Longer Stone Cold") Austin arrived to a huge applause (and several "What" chants and "Stone Cold! Stone Cold!" shout outs) as Lionsgate presented a huge Premiere shindig for The Expendables, which debuts August 13th. The movie stars Sylvester Stallone, Bruce Willis, The Governator (doesn't he have to run a state with a hyuuuuuuge deficit? another day, another headline), Austin, Jason Statham, UFC Hall of Famer Randy Couture, and a cast of thousands.

CLICK HERE FOR OUR OWN HUSTLER DE TUTI HUSTLERS PAUL HEYMAN'S EXCLUSIVE BLOG ON "DINNER WITH UFC WORLD CHAMPION BROCK LESNAR AND STEVE AUSTIN!"

Austin, who is scheduled for another round of back-to-back films this fall, has received widespread critical acclaim for his role as a villain in the movie. "I had a lot of fun making this film" Austin said on the red carpet, "I look at it as this movie was a great opportunity for me!"
CLICK ON THE PICS BELOW TO SEE THE ENTIRE GALLERY
OF STEVE AUSTIN ARRIVING AT THE PREMIERE OF THE EXPENDABLES!

THE HEYMAN HUSTLE'S VERY OWN TRAINED MONKEYS ARE PROUD
TO PRESENT THE TOP 15 STORIES OF THE DAY, ALL CONVENIENTLY
LINKED HERE FOR YOUR REVIEW. NO NEED TO SURF THE WEB, WE
DID ALL THE HARD WORK FOR YOU. JUST PICK A PIC AND CLICK!