The Women's Bantamweight Title is on the Line as The Fighting Femmes Prepare For Battle!
We are just hours away from Ronda Rousey's chance to put up or shut up as the biggest grudge match in Women's MMA history takes center stage at the Nationwide Arena in Columbus, Ohio. Rousey will challenge Miesha Tate for the Strikeforce Women's Bantamweight Championship in the most high profile Women's MMA fight since Cris Cyborg beat the living crap out of Gina Carano.
Rowdy Ronda granted an interview to the Columbus Dispatch, which has had its hands full with the Arnold Classic in town. Rousey, whose rise to fame can only be compared to JEREMY LIN of the New York Knicks, stated "When I am fighting, it is the only time when I'm entirely in the present. I don't really remember my fights, because my mind is so completely focused on the present time that I'm on 'play' not 'recording.' There is nothing that happened before, there is nothing that's going to happen. It's just what's going on at that exact moment. There is only right now."
The challenger continued, "When I set my mind on something, it becomes everything about me. So when I wake up in the morning, it is not a decision on whether I should get up and train. It's like, 'I'm awake. OK, let's train.' A year or so ago, I said to myself, 'I want to win a title in this sport.' Once the decision was made, that was it."
Showtime Extreme kicks off the evening with four preliminaries.
Roger Bowling vs Brandon Saling
Ryan Couture vs Conor Heun
Caros Fodor vs Pat Healy
Sarah Kaufman vs Alexis Davis
Then at 10pm Eastern comes the main card, broadcast on Showtime
Ronaldo "Jacare" Souza vs Bristol Marunde
Scott Smith vs Lumumba Sayers
Paul Daley vs Kazuo Misaki
K.J. Noons vs Josh Thomson
Strikeforce Bantamweight Champion Miesha Tate vs Ronda Rousey
Of course, we're HustleTweeting about tonight's historic Strikeforce event, and you're more than welcome to join the conversation by following THE HEYMAN HUSTLE on Twitter HERE or write to us directly at hustleoncrave@gmail.com Hey, have you checked out the Hustle's Ultra High Quality You Tube Channel, with exclusive videos featuring BROCK LESNAR'S "HERE COMES THE PAIN" … ICE-T AND COCO's SEX SECRETS … THE ULTIMATE WELTERWEIGHT BAD ASS NICK DIAZ … CONTROVERSIAL TEEN SENSATION TAYLOR MOMSEN … LEGENDARY MMA PIONEER FRANK SHAMROCK … THE WALKING RIOT MISSY HYATT … if you're not subscribing, you're missing something … and by the ways cheapos, it's FREE! Yes, absolutely 100 percent FREE! What are you waiting for? Check it out HERE!
By the way, we're also old school social networkers, so check out our interactive skills on Facebook HERE and even on MySpace HERE. If you're on Friendster, GFY … and have a pleasant tomorrow!
CHECK OUT THE PREVIEW FOR MIESHA TATE VS RONDA ROUSEY!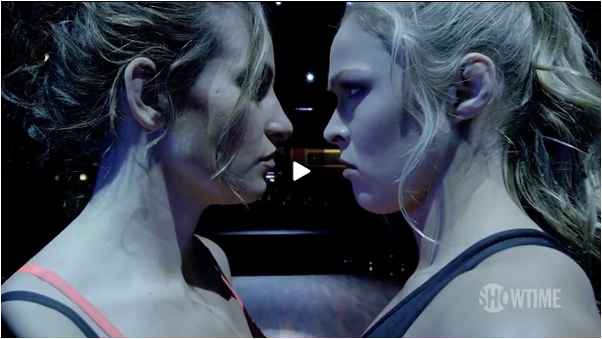 IT'S TIME FOR AN ALL NEW EDITION OF THE HOLLYWOOD CHARLIE
MEDIA WATCH, OUR DAILY TRAVEL ACROSS THE WORLD WIDE WEB.
OUR HIGHLY TRAINED MONKEYS HAVE PICKED OUT THE 15 WILDEST
STORIES FROM THE INTERNET FOR YOUR ASTUTE REVIEW. YOUR PART
IS VERY EASY. ALL YOU NEED TO DO IS PICK A PIC … AND CLICK!