The Toronto Blue Jays' Brett Lawrie's are called "Extreme" by a MLB umpire. WTF? Are we supposed to NOT like that description?
Enraged by what he felt was a bad called by umpire Bill Miller, a livid Brett Lawrie slammed his batting helmet to the ground after he took a third strike, and it struck plate umpire Bill Miller in the hip in what Lawrie called "an unlucky bounce" in the ninth inning of the Toronto Blue Jays' 4-3 loss to the Tampa Bay Rays.

"That was not my intention at all," Lawrie said. "I've never, ever done anything to go at an umpire before in my life, and I didn't mean to tonight. I apologize for that. It's just my passion for the game. I wanted to help my teammates out as best I could. That's the pride I have in this game. I leave my emotions out on the field."
Miller later was hit by a drink thrown by a fan while walking off the field after the game.
The trouble began with one out in the ninth and Lawrie trying to work a walk against Rays relief pitcher Fernando Rodney. On a 3-1 pitch, Lawrie started toward first base but was stopped short as Miller called strike two. Rodney stared in at Lawrie, and Miller, many say, helped settle the tension.
On a full-count pitch that he thought was ball four, Lawrie again headed toward first base. When Miller called strike three, Lawrie crouched in disbelief. Lawrie dropped his bat, gestured at Miller and shouted, and was ejected. Lawrie then started toward Miller, and threw down his helmet. It bounced right by the umpire's feet and ricocheted up into him.
"Upon seeing that he was ejected, he took several steps toward me and fired his helmet. It hit me in the right hip," Miller said. "That's a bit extreme!"
Miller said he already has filed his report with Major League Baseball about the incident.
Lawrie said he felt Miller made "kind of a late call" on strike three.
Toronto manager John Farrell came out to restrain his third baseman, who at 22 years old is in his first full season in the majors. After Lawrie returned to the dugout, Farrell was ejected for arguing the call.
"The bat was taken completely out of Brett's hands, not only the 3-1 pitch but the 3-2 pitch as well," Farrell said. "Those are not strikes."
Miller was hit by a drink as he left the field. Police and stadium security were seen pointing into the crowd after that incident, and Miller shouted something at the fan before exiting.
EC DUB! EC DUB! EC DUB!
Of course, we're HustleTweeting about Brett Lawrie and you're more than welcome to join the conversation by following the Hustle on Twitter HERE or write to us directly at hustleoncrave@gmail.com Hey, have you checked out the Hustle's Ultra High Quality You Tube Channel, with exclusive videos featuring BROCK LESNAR'S "HERE COMES THE PAIN" … ICE-T AND COCO's SEX SECRETS … THE ULTIMATE WELTERWEIGHT BAD ASS NICK DIAZ … CONTROVERSIAL TEEN SENSATION TAYLOR MOMSEN … LEGENDARY MMA PIONEER FRANK SHAMROCK … THE WALKING RIOT MISSY HYATT … if you're not subscribing, you're missing something … and by the ways cheapos, it's FREE! Yes, absolutely 100 percent FREE! What are you waiting for? Check it out HERE!
By the way, we're also old school social networkers, so check out our interactive skills on Facebook HERE and even on MySpace HERE. If you're on Friendster, GFY … and have a pleasant tomorrow!
CHECK OUT THE ENTIRE CONTROVERSIAL INCIDENT BETWEEN
TORONTO BLUE JAYS' 3rd BASEMAN BRETT LAWRIE AND MLB UMPIRE BILL MILLER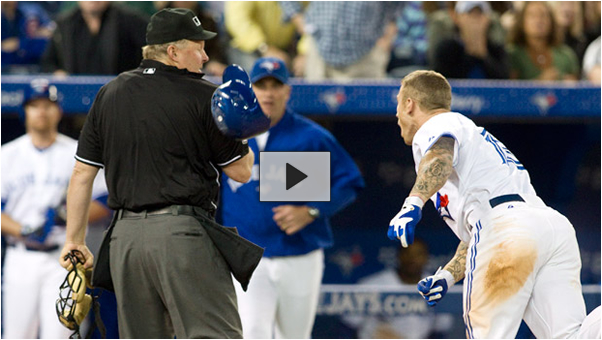 IT'S TIME FOR AN ALL NEW EDITION OF THE HOLLYWOOD CHARLIE
MEDIA WATCH, OUR DAILY TRAVEL ACROSS THE WORLD WIDE WEB.
OUR HIGHLY TRAINED MONKEYS HAVE PICKED OUT THE 15 WILDEST
STORIES FROM THE INTERNET FOR YOUR ASTUTE REVIEW. YOUR PART
IS VERY EASY. ALL YOU NEED TO DO IS PICK A PIC … AND CLICK!